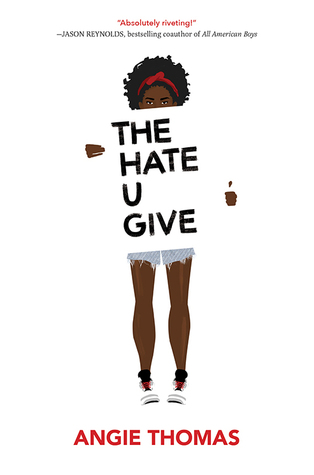 The Hate U Give
Source: eARC provided for review
Sixteen-year-old Starr Carter moves between two worlds: the poor neighborhood where she lives and the fancy suburban prep school she attends. The uneasy balance between these worlds is shattered when Starr witnesses the fatal shooting of her childhood best friend Khalil at the hands of a police officer. Khalil was unarmed.
Soon afterward, his death is a national headline. Some are calling him a thug, maybe even a drug dealer and a gangbanger. Protesters are taking to the streets in Khalil's name. Some cops and the local drug lord try to intimidate Starr and her family. What everyone wants to know is: what really went down that night? And the only person alive who can answer that is Starr.
But what Starr does or does not say could upend her community. It could also endanger her life.
I've tried to write about this book so many times, but I never found the right words to do so. It's just that The Hate U Give was such an amazing and important and GOOD book.
I think you all understand the importance of this book, but that wasn't the only amazing thing about it.
The characters were unique and lovely and likable and so strong and honest. I didn't dislike any of them; I think I liked even the ones I wasn't supposed to like (except that racist friend we all hate).
The writing was past-paced and addictive. It got me on the edge of my seat. Once I started reading, I couldn't stop. The plot was well done, I loved that it wasn't centered in hate, but in positivism and the importance of finding your voice to fight injustices.
And if this wasn't enough, the romance is swoon-worthy. Starr and Chris were so cute together.
And I'm so here for a DeVante book!
The Hate U Give is masterpiece. Everyone must give a chance. Like I said, you won't read only a book with a relevant message, but a beautiful romance, beautiful friendships and beautiful family dynamics.
You also have to be ready for the heartbreak. Some parts of this book are gut-wrenching and painful.
The Hate U Give by Angie Thomas is one of the best books I've ever read. I can't recommend it enough.