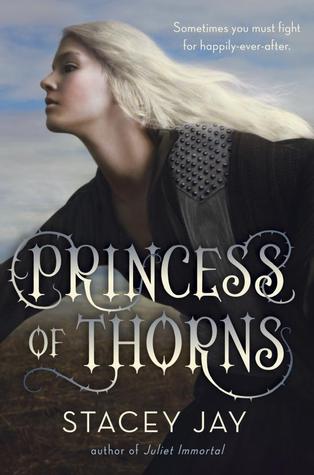 PRINCES OF THORNS
Though she looks like a mere mortal, Princess Aurora is a fairy blessed with enhanced strength, bravery, and mercy yet cursed to destroy the free will of any male who kisses her. Disguised as a boy, she enlists the help of the handsome but also cursed Prince Niklaas to fight legions of evil and free her brother from the ogre queen who stole Aurora's throne ten years ago.
Will Aurora triumph over evil and reach her brother before it's too late? Can Aurora and Niklaas break the curses that will otherwise forever keep them from finding their one true love?
I don't know if I've said this in public already, but I HATED Juliet Immortal, the first book I read by Stacey Jay. Really, I hated it.
So, when I read Ari @ Reading After Midnight's review of Of Best and Beauty I wasn't eager to read it. But I ended up taken aback because I ADORED IT.
Since that day I've been really excited about Princess of Thorns. I was dying to read. So, at soon as it landed on my kindle, I started to read it.
And once again, I felt in love with a new Stacey Jay book.
Princess of Thorns was not what I expected. I blame the synopsis for that, because I feel it's wrong.
Aurora is such a brave and funny character. She and Niklaas had the best camaraderie I've read in YA books.
Princess of Thorns reminds me a little of Graceling, though I liked this one better. It reminds me of Thorn and Cress, too. They're that cute together.
Even thought I felt a little confused about the world building: there were human, witches, ogres, fey, feeding tress, etc, with little explanation about them, I loved the fantasy, I loved the landscapes described, and I loved the myths and legends within.
You know, Princess of Thorns is one of the few books I kept picturing in my head, like a movie.
The romance came fast, because Aurora and Niklaas were just three weeks together, but it felt like it grew slowly. They were stubborn and childish together, but I loved them anyway.
And then, there were the villains: horrible, cruel and… surprising.
The ending wasn't the blood-bath I was waiting for (hey, it was fantasy!), but it unexpected.
Overall, Princess of Thorns is an amazing fantasy standalone. You have battles, magic, an almost impossible quest and a beautiful romance.
Well deserved 5 stars for me.