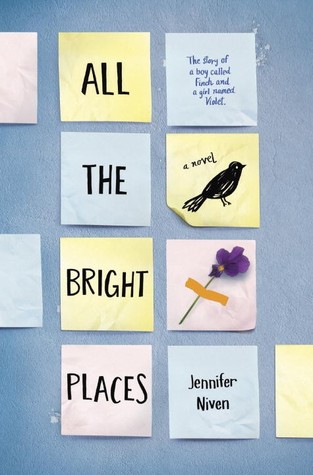 ALL THE BRIGHT PLACES
Summary:
Theodore Finch

is fascinated by death, and he constantly thinks of ways he might kill himself. But each time, something good, no matter how small, stops him.

Violet Markey

lives for the future, counting the days until graduation, when she can escape her Indiana town and her aching grief in the wake of her sister's recent death.

When Finch and Violet meet on the ledge of the bell tower at school, it's unclear who saves whom. And when they pair up on a project to discover the "natural wonders" of their state, both Finch and Violet make more important discoveries: It's only with Violet that Finch can be himself—a weird, funny, live-out-loud guy who's not such a freak after all. And it's only with Finch that Violet can forget to count away the days and start living them. But as Violet's world grows, Finch's begins to shrink.

This is an intense, gripping novel perfect for fans of Jay Asher, Rainbow Rowell, John Green, Gayle Forman, and Jenny Downham from a talented new voice in YA, Jennifer Niven.
******
The first time I read anything about ALL THE BRIGHT PLACES, it was because I read a comparison to John Green's The Fault In Our Stars. As a really huge fan of that book, I immediately added All The Bright Places to my TBR pile.
I'm so glad to say it didn't disappoint me at all.
One of the things I love the most about books, are those larger-than-life characters.
I know people also hate them because they're too smart or arrogant. But I love them because they are unforgettable! I would never be able to forget Augustus Waters, or Richard Gansey, or Jace Wayland, just to mention some of the most loved-hated characters I've heard of. And now I would never forget Theodore Finch.
Jennifer Niven's characters were spectacular and lovely and interesting.
I loved Violet and Finch, their very different POVs, the dynamics between them and how their relationship was built.
The author did an amazing job even making me HATE Finch's family. I detested them, but at the same time I was stunned at how realistic they were (I met myself a family like them once).
I finished this book with tears in my eyes and a huge smile on my lips, because even when I was heartbroken, I was glad I've found a new favorite book.
All The Bright Places is a beautiful book. Not only the story, but the author's note after it.
The GR summary says: For fans of John Green, Jay Asher, and Gayle Forman. And indeed, if you liked those books you'll probably like this one. I should add, too: for fans of Maggie Stiefvater. I don't know why but these MC reminded me of how much I love Maggie's characters.
I really, really hope that if you haven't read it, you give it a chance!