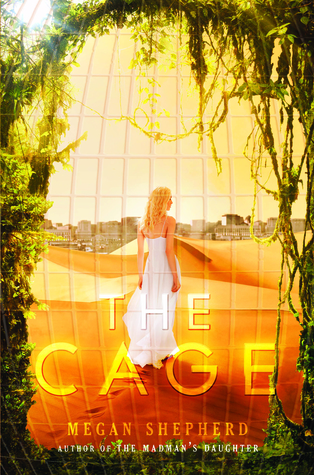 The Cage #1
Source: eARC provided by Publisher. Thank you.
When Cora Mason wakes in a desert, she doesn't know where she is or who put her there. As she explores, she finds an impossible mix of environments—tundra next to desert, farm next to jungle, and a strangely empty town cobbled together from different cultures—all watched over by eerie black windows. And she isn't alone.

Four other teenagers have also been taken: a beautiful model, a tattooed smuggler, a secretive genius, and an army brat who seems to know too much about Cora's past. None of them have a clue as to what happened, and all of them have secrets. As the unlikely group struggles for leadership, they slowly start to trust each other. But when their mysterious jailer—a handsome young guard called Cassian—appears, they realize that their captivity is more terrifying than they could ever imagine: Their captors aren't from Earth. And they have taken the five teenagers for an otherworldly zoo—where the exhibits are humans.

As a forbidden attraction develops between Cora and Cassian, she realizes that her best chance of escape might be in the arms of her own jailer—though that would mean leaving the others behind. Can Cora manage to save herself and her companions? And if so . . . what world lies beyond the walls of their cage?
This is my first book by Megan Shepherd, and I'm so glad to say that it didn't disappoint.
The Cage is a wonderful book about a group of teenagers kidnapped and brought to a strange place far away from Earth.
There's no doubt my favorite part of this book was Megan Shepherd's writing. It was fast passed and addictive. I wasn't able to put it down once I started.
The characters in this book are so diverse and complex. The book is told from different POVs, so we got the chance to meet each character and understand them.
Cora, the main character is a brave girl with a tough past. She's the most daring in the book. She was my favorite character even though there were some things I didn't like about her.
The plot was full of twist and turns. It was realistic and mind-blowing. The world building is as creepy as it was dazzling. I can't complain about it at all.
The only problem I had with this book was the romance. As you can read in the synopsis, Cara felt attracted to Cassian, her jailer. I already knew that could be a problem for me, but when it happens is insta-attraction, you know, that cliché of "I dreamt about him" was thrown right away.
Cora was a strong girl but kept thinking about how beautiful he was and how he looked like an angel. I mean, he was an alien who stole her and spy on her. It didn't matter that she was aware how sick her feelings were. It didn't feel right at all.
And there's Lucky, the other boy. It was a kind of love triangle where I liked the "human" boy better.
Anyway, the last twist in the story made me really happy. It made me more excited to read the next book, and I just hope my problem with the romance is solved, as I can see I'm not the only against that romance.
Overall, if I don't count the romance, which isn't the main focus in the story, The Cage is an amazing science fiction book. It has suspense, betrayals, a cast of diverse characters and a world that will blow you away.