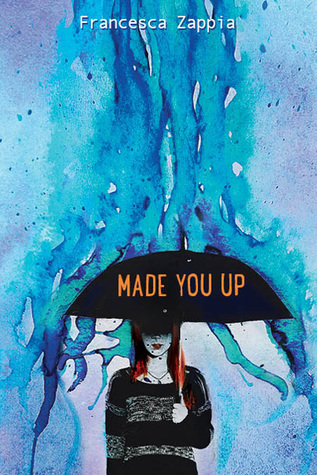 Made You Up
Source: eARC provided by the publisher. Thank you!
Alex fights a daily battle to figure out the difference between reality and delusion. Armed with a take-no-prisoners attitude, her camera, a Magic 8-Ball, and her only ally (her little sister), Alex wages a war against her schizophrenia, determined to stay sane long enough to get into college. She's pretty optimistic about her chances until classes begin, and she runs into Miles. Didn't she imagine him? Before she knows it, Alex is making friends, going to parties, falling in love, and experiencing all the usual rites of passage for teenagers. But Alex is used to being crazy. She's not prepared for normal.
I saw a post on YA Romantics about books with mental illness and how they are becoming popular (o something like that, way better explained). Anyway, I do enjoy this kind of books because I like to know how amazing our brain is, and how amazing these persons are.
Told from an unreliable point of view, Made You Up made me doubt everything I was reading.
Alex is a badass main character, she's witty and weird and so charming. Struggling with her own mind, trying to guess what is real and what is delusion, Alex lives in a constant paranoia.
Even though this book could've felt sad and tragic, Alex is so funny and "light". She doesn't go all drama queen here, she's very positive about her life.
And then, enter Miles. Problematic, cold, distant, german…
I wish I could say more about it, but Made You Up was startling and the more you don't know, the more you'll enjoy it.
Francesca Zappia's debut novel is deep and emotional, and at the same time is fresh and witty.
It's full of conspiracy and unexpected turns.
Packed with an amazing cast of characters, Made You Up is an amazing read.