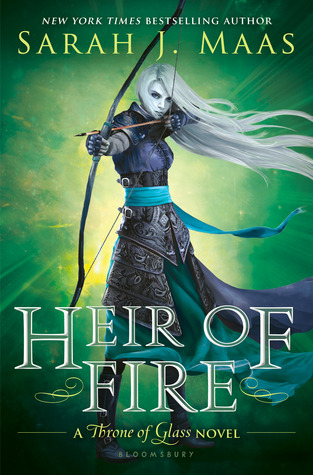 Heir of Fire
Series: Throne of Glass #3
Source: eARC provided for review. Thank you!
Lost and broken, Celaena Sardothien's only thought is to avenge the savage death of her dearest friend: as the King of Adarlan's Assassin, she is bound to serve this tyrant, but he will pay for what he did. Any hope Celaena has of destroying the king lies in answers to be found in Wendlyn. Sacrificing his future, Chaol, the Captain of the King's Guard, has sent Celaena there to protect her, but her darkest demons lay in that same place. If she can overcome them, she will be Adarlan's biggest threat – and his own toughest enemy.

While Celaena learns of her true destiny, and the eyes of Erilea are on Wendlyn, a brutal and beastly force is preparing to take to the skies. Will Celaena find the strength not only to win her own battles, but to fight a war that could pit her loyalties to her own people against those she has grown to love?
Two months ago I read the ARC of this book, and since that day I cannot stop thinking about it.
…I can't even tell you how much I loved this book… mostly, the ending. It's been a while since I don't read a book with and cliffhanger that cruel!
I'm still speechless, heartbroken and shocked!
That being said I can only tell you that this book is probably the best of the series so far.
It was wicked, dark, thrilling and epic.
"They burned the antler throne (…). There is no throne for her."

"Then I'll build one myself from the bones of our enemy"
The old and new characters were in their best. I think that the beginning was a little slow, but when it finally found its rhythm it was the best thing ever!
Crown of Midnight was action-packed and full of blood, while Heir of Fire it's an emotionally draining roller-coaster. It has everything you need in a fantasy book.
From Celaena's POV, it was thrilling and terrible, full of magic and mystery.
From the people near the king, it was suspense and tension. While one of the new characters' perspective has all the bloody action we needed.
"At least if you're going to hell," he said, the vibrations in his chest rumbling against her, "then we'll be there together."
I'm also glad about the little romance in this book. It was unexpected and I can't tell that I enjoyed it, but I liked it enough. I feel really, really horrible saying this but what happened with the couple in the end was… epic! (ohmygod I can't believe I loved that part).
Overall, Heir of Fire is the best book in the Throne of Glass series. It's impressive, strong and fantastic!