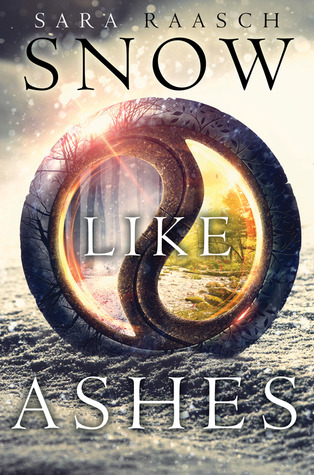 Snow Like Ashes
Series: Snow Like Ashes #1
Source: e-ARC provided by Publisher. Thank you!
A heartbroken girl. A fierce warrior. A hero in the making.

Sixteen years ago the Kingdom of Winter was conquered and its citizens enslaved, leaving them without magic or a monarch. Now, the Winterians' only hope for freedom is the eight survivors who managed to escape, and who have been waiting for the opportunity to steal back Winter's magic and rebuild the kingdom ever since.

Orphaned as an infant during Winter's defeat, Meira has lived her whole life as a refugee, raised by the Winterians' general, Sir. Training to be a warrior—and desperately in love with her best friend, and future king, Mather — she would do anything to help her kingdom rise to power again.

So when scouts discover the location of the ancient locket that can restore Winter's magic, Meira decides to go after it herself. Finally, she's scaling towers, fighting enemy soldiers, and serving her kingdom just as she's always dreamed she would. But the mission doesn't go as planned, and Meira soon finds herself thrust into a world of evil magic and dangerous politics – and ultimately comes to realize that her destiny is not, never has been, her own.
I must confess, I never read high fantasy books until I tried the Throne of Glass series. And since that day, I've been dying to read my next favorite book from this genre. I can't say I'm a huge fan, but after that book, I enjoyed Of Beast and Beauty by Stacey Jay and…. Okay, I don't remember any other high fantasy book that I loved.
Anyway, I'm saying this just to point out that I don't read these books, but I fell in love with the cover of Snow Like Ashes and that's why I started reading the eARC when I got the chance.
To be completely honest I was about to DNF this book when I was 30%. My biggest problem was that I couldn't connect with Meira. She was too reckless, and I even found her a little selfish. I already fell for the Winterians, but I felt like she didn't care about her people, even though she was fighting for them.
But I don't DNF books, that's why I kept reading and thanks God! because then I realized I was really enjoying Snow Like Ashes. This book is pure fantasy!

The second part of this book was a great surprise.
Meira's became a stronger character; she grows up so much in this part.
The relationship between her and the other characters is fantastic and well built.
The twist and turns of the plot are extraordinarily startling. They had me on the edge of my seat. I was already in love with this story.
I am truthful to say that Snow Like Ashes is one of the few books that really shocked me since I became a reader.
There were some things I never expected, maybe because I'm a dystopian reader, maybe because I wasn't trying to guess, who knows? The plot took me aback.
The world-building of Snow Like Ashes is magical and beautiful. The writing is "clean" and fast passed, though sometimes it felt a little modern (which I didn't care).
Snow Like Ashes made me feel the pain of the Winterian, it made me feel loyal to them and devoted to the cause of freeing their kingdom.
Something I also loved about this book is that the romance wasn't the main part of the story (yes, when it starts Meira thinks a lot about romance, but that ends!). I felt some hints of a love triangle but I'm not really sure if that was it. In any case, both boys were extraordinary.
I don't want to say more about this book because I don't want to risk any spoiler.
Just let me tell you this: Snow Like Ashes is an incredibly satisfying book.
I don't even care that I felt Meira too

stubborn in the first chapters

, maybe I was the only one to feel this way. This book deserves the 5 stars, because of the amazing characters, the imaginative world created by Sara Raasch and that epic ending that will let you begging for more.
This is a book you have to read!