HAPPY NEW YEAR!!!
Hi, there, lovely bookish friends. I can't believe it's 2017 already! To be honest, I feel like I wasted 2016. I didn't complete my reading challenge *cries* I only 50 or so books. I didn't finish writing my book (you see, I'm writing a book "for me" in Spanish), I didn't watch many movies. I didn't find a second job (though that wasn't my fault).
I wasted 2016 watching CSI, The Mentalist & Ink Master. I kid you not.
This year didn't suck too much either, I just feel like I got stuck and there's almost nothing to highlight about my life (except that I started working with Harper Collins International Sales and Penguin Random House Global (yay!!) AND I found 2 new favorite blogs (Angel Erin Book Obsession & The Eater of Books).
And my family is healthy and safe).
I still have the worst internet in the whole world, so I haven't been online like I used to in the first years. But I keep reading my favorite blogs and commenting every time I can (sending lots of love to Reading After Midnight and April Reads)
Okay, so that's enough about me.
Today in WHAT'S NEW? I have to show you THIS book! I don't remember how I found it, but I'm so, so excited about it. It sounds fantastic! In fact, I'm off to Edelweiss to see if I can request it.
Expected publication:
May 30th 2017 by Simon Pulse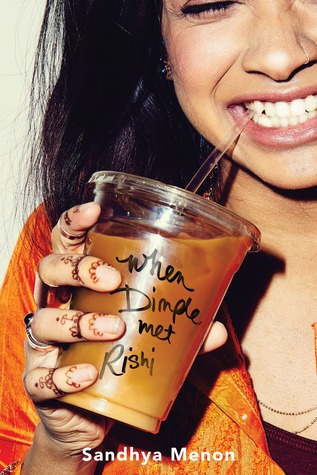 A laugh-out-loud, heartfelt YA romantic comedy, told in alternating perspectives, about two Indian-American teens whose parents have arranged for them to be married.

Dimple Shah has it all figured out. With graduation behind her, she's more than ready for a break from her family, from Mamma's inexplicable obsession with her finding the "Ideal Indian Husband." Ugh. Dimple knows they must respect her principles on some level, though. If they truly believed she needed a husband right now, they wouldn't have paid for her to attend a summer program for aspiring web developers…right?
Rishi Patel is a hopeless romantic. So when his parents tell him that his future wife will be attending the same summer program as him—wherein he'll have to woo her—he's totally on board. Because as silly as it sounds to most people in his life, Rishi wants to be arranged, believes in the power of tradition, stability, and being a part of something much bigger than himself.
The Shahs and Patels didn't mean to start turning the wheels on this "suggested arrangement" so early in their children's lives, but when they noticed them both gravitate toward the same summer program, they figured, Why not?
Dimple and Rishi may think they have each other figured out. But when opposites clash, love works hard to prove itself in the most unexpected ways.