Some Books Ago is a shout out to all those books published some years ago. I don't want you to forget them!
The Vespertine is not the kind of book I read, but I fell in love with Saundra Mitchell's writing when I read a short story she wrote for an anthology. I'm not fan of historical romance, but this book was beautiful! and the writing was as perfect as the short story that made me want to read it. I never read The Springsweet, the sequel, because it was narrated by a different character and I didn't like her.
However, I do hope that if you haven't read this book, you add it to your TBR pile now!
Check it out!
It was published on March 7th 2011 by Harcourt Children's Books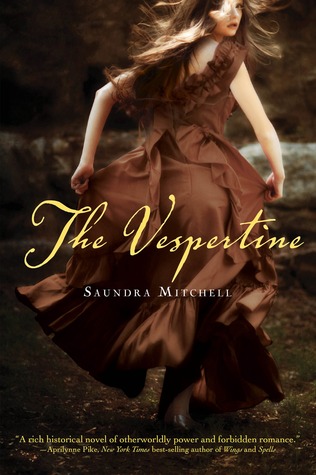 Summary:
It's the summer of 1889, and Amelia van den Broek is new to Baltimore and eager to take in all the pleasures the city has to offer. But her gaiety is interrupted by disturbing, dreamlike visions she has only at sunset—visions that offer glimpses of the future.
Soon, friends and strangers alike call on Amelia to hear her prophecies. However, a forbidden romance with Nathaniel, an artist, threatens the new life Amelia is building in Baltimore. This enigmatic young man is keeping secrets of his own—still, Amelia finds herself irrepressibly drawn to him.
When one of her darkest visions comes to pass, Amelia's world is thrown into chaos. And those around her begin to wonder if she's not the seer of dark portents, but the cause.