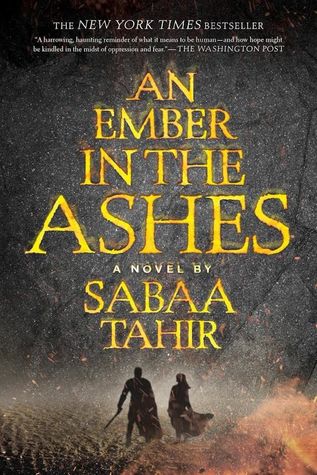 An Ember in the Ashes.
(Una Llama Entre Cenizas)
Laia is a slave. Elias is a soldier. Neither is free.
Under the Martial Empire, defiance is met with death. Those who do not vow their blood and bodies to the Emperor risk the execution of their loved ones and the destruction of all they hold dear.
It is in this brutal world, inspired by ancient Rome, that Laia lives with her grandparents and older brother. The family ekes out an existence in the Empire's impoverished backstreets. They do not challenge the Empire. They've seen what happens to those who do.
But when Laia's brother is arrested for treason, Laia is forced to make a decision. In exchange for help from rebels who promise to rescue her brother, she will risk her life to spy for them from within the Empire's greatest military academy.
There, Laia meets Elias, the school's finest soldier—and secretly, its most unwilling. Elias wants only to be free of the tyranny he's being trained to enforce. He and Laia will soon realize that their destinies are intertwined—and that their choices will change the fate of the Empire itself.
I wasn't going to write a review or something about this book, because I feel like everybody knows already how awesome is it. But I need to tell someone how much I loved it. I devoured An Ember in the Ashes, and it wasn't just because this was my first book in Spanish in TWO years (and reading fantasy in Spanish is so much easier!). It was because it was awesome! Bloody perfect!
I don't read many books in Spanish because I'm afraid some translations don't do justice to the writer's... voice? mood? I don't know how to explain it, but one of the reasons why I HATED Starcrossed by Josephine Angelini is because I read it in Spanish and the transtaion was awful. Well, it wasn't a "bad translation" but one with too many slang I didn't understand.
However, the translator of An Ember in the Ashes did such a good job! The words she picked were perfect and beautiful.
Translation aside. An Ember in the Ashes is my first 5 stars book in two months, I think. One of the few 5 stars reads this year.
Sabaa Tahir writing is beautiful and flawless. Her characters are so freaking amazing I couldn't help but love them all. The plot and world were brutal and sad, but I loved it anyway because it felt real, the characters felt real. And most important of all... after so many books, I'm ready to have my heart broken by a love... triangle? I don't know if this was a love triangle, but I ship Elias and Laia so bad that I die a little with all the love for Helene... I mean, I loved Helene, but I don't want her with Elias.
Oh boy... I must stop now.
So, whoever you are, if you haven't read An Ember in the Ashes, you must. Now!