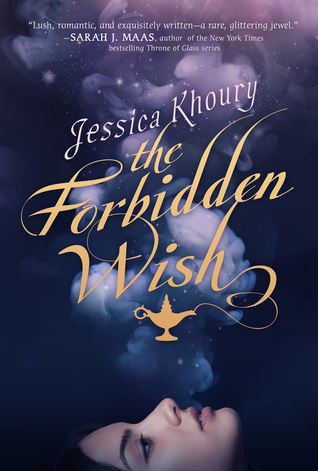 Temporary rating: 5 stars
Preview provided by Netgally in exchange for a honest review.
"When Aladdin discovers Zahra's jinni lamp, Zahra is thrust back into a world she hasn't seen in hundreds of years -- a world where magic is forbidden and Zahra's very existence is illegal. She must disguise herself to stay alive, using ancient shape-shifting magic, until her new master has selected his three wishes.
But when the King of the Jinn offers Zahra a chance to be free of her lamp forever, she seizes the opportunity—only to discover she is falling in love with Aladdin. When saving herself means betraying him, Zahra must decide once and for all: is winning her freedom worth losing her heart?
As time unravels and her enemies close in, Zahra finds herself suspended between danger and desire in this dazzling retelling of Aladdin from acclaimed author Jessica Khoury."
Most of the time I don't read previews because, you know, it's hard to stop abruptly when you're enjoying something, but I had to read this one because this book sounds amazing!
This preview has only a few chapters, but I can tell the writing and the plot are fantastic. This is the first time I read something by this author, and I'm so happy this was the book! Her storytelling is incredible! I adored how the book feels like a tale the jinni is telling to her long dead friend. The one she apparently betrayed.
Now, can I tell you about Aladdin? Oh my God! I don't need to read the whole book to know he's a gorgeous character! He's a thief, yeah, he's tough, and he's so charming!
And the jinni?

She's spectacular! She's old; she's smoke, she shape-shifts.
I adored that this book doesn't seem to be focused only in these characters. There's the hint of a rebellion, there's a fight for freedom, there's an amazing group of warrior girls…
Oh boy, I can't wait to finish this book! It has everything to be one of the best of the year!