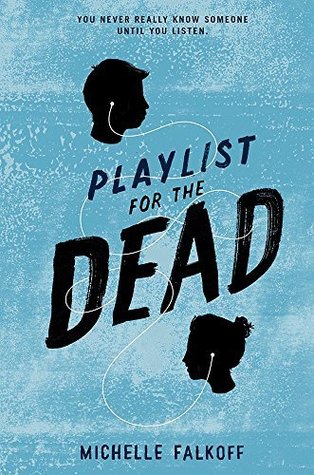 Playlist for the Dead.
Source: ARC provided by Publisher. Thank you!
A teenage boy tries to understand his best friend's suicide by listening to the playlist of songs he left behind in this smart, voice-driven debut novel.

Here's what Sam knows: There was a party. There was a fight. The next morning, his best friend, Hayden, was dead. And all he left Sam was a playlist of songs, and a suicide note: For Sam—listen and you'll understand.

As he listens to song after song, Sam tries to face up to what happened the night Hayden killed himself. But it's only by taking out his earbuds and opening his eyes to the people around him that he will finally be able to piece together his best friend's story. And maybe have a chance to change his own.

Part mystery, part love story, and part coming-of-age tale in the vein of Stephen Chbosky's

The Perks of Being a Wallflower

and Tim Tharp's

The Spectacular Now

,

Playlist for the Dead

is an honest and gut-wrenching first novel about loss, rage, what it feels like to outgrow a friendship that's always defined you—and the struggle to redefine yourself. But above all, it's about finding hope when hope seems like the hardest thing to find.
I've read many books about suicide in the last year, but I hadn't read any from a male POV until Playlist for the Dead. I've heard some people comparing it to Thirteen Reasons why, but except for the MC trying to understand why his friend killed himself, I can't see the point.
Michelle Falkoff's debut is sad story but not a heartbreaking one. It's a thought provoking read about guilt, revenge and understanding.
The main character, Sam, and his dead best friend Hayden had a strong relationship and they shared their love for music and comics. They were geeky and loner, that's why they were bullied by Hayden's brother and his Bully Trifecta.
Although this was an entertaining read and I wanted so bad to reach the ending. I can't help but feel disappointing. You see, I thought: books + music = love.
I feel like I wasted my reading time searching those songs from Hayden's playlist, when in the end it was incredible unnecessary. The playlist didn't make Sam understand, it didn't make me love more the story.
Another problem I have with this book is that Sam voice wasn't even a little aggressive, which is one of the things I enjoy more when I read this kind of books. He was too passive and plain. Even after everything The Bully Trifecta did to him and Hayden, Sam still was too soft on them.
I could relate more to a secondary character, and I can't help but wonder if Sam's POV was a wise choice from the author.
Overall, this was a good story, but it wasn't remarkable. I liked it. And I can say I enjoyed it, but I didn't love it.