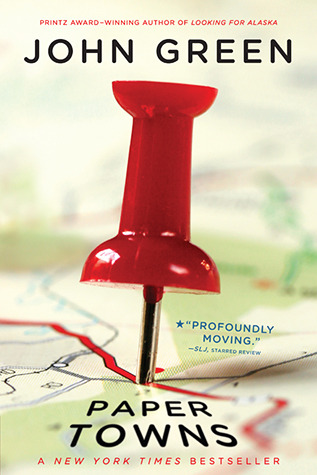 Paper Towns
Quentin Jacobsen has spent a lifetime loving the magnificently adventurous Margo Roth Spiegelman from afar. So when she cracks open a window and climbs back into his life — dressed like a ninja and summoning him for an ingenious campaign of revenge — he follows.

After their all-nighter ends and a new day breaks, Q arrives at school to discover that Margo, always an enigma, has now become a mystery. But Q soon learns that there are clues — and they're for him. Urged down a disconnected path, the closer he gets, the less Q sees of the girl he thought he knew.
"Oh my God, Margo Roth Spiegelman is the female version of Christopher McCandless!"
That was my opinion when I closed this book. I finished reading it minutes ago, and still I'm reluctant to believe that page 305 marks the ending of this precious and clever story. But it's Green's story, so of course it is ambiguous, but comforting at the se time (even when you need/want more...).
Paper Towns, is one of the best teenage stories I've ever read. It is smart, funny, and full of metaphors.
The way it is structured is perfect. Three parts. Each with its own pace, and analogy.
The humor is a mixture from Looking for Alaska (not too perverted), and The Fault in Our Stars (but not too soft).
Q, Margo, Radar, Ben, and Lacey. They are my new best friends. And please don't judge me, Alaska Young fans, but I think I sympathize more with Margo than with Alaska. She is more curious, and just as the book describes her, a real "mystery."
Conclusion: Green did it again. You know what you have to do if you haven't read it.
And I finish with here my favorite quote (analogy), The Vessel:
"And I mean, yeah, once the vessel cracks open, the end becomes inevitable [...] But there is all this time between the cracks start to open up and when we finally fall apart. And it's only in that time that we can see one another, because we see out of ourselves through our cracks and into others through theirs [...] Before that, we were just looking at ideas of each other [...] But once the vessel cracks, the light can get in. The light can get out."