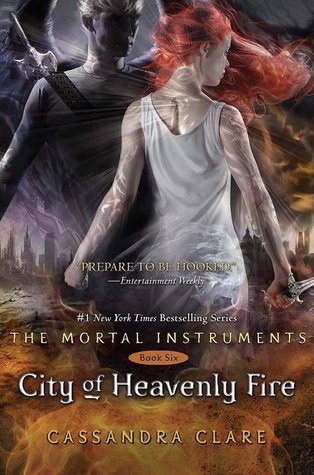 City of Heavenly Fire
Series: The Mortal Instruments #6
My rating: 6 stars (special rating)
In this dazzling and long-awaited conclusion to the acclaimed Mortal Instruments series, Clary and her friends fight the greatest evil they have ever faced: Clary's own brother.

Sebastian Morgenstern is on the move, systematically turning Shadowhunter against Shadowhunter. Bearing the Infernal Cup, he transforms Shadowhunters into creatures out of nightmare, tearing apart families and lovers as the ranks of his Endarkened army swell.

The embattled Shadowhunters withdraw to Idris - but not even the famed demon towers of Alicante can keep Sebastian at bay. And with the Nephilim trapped in Idris, who will guard the world against demons?

When one of the greatest betrayals the Nephilim have ever known is revealed, Clary, Jace, Isabelle, Simon, and Alec must flee - even if their journey takes them deep into the demon realms, where no Shadowhunter has set foot before, and from which no human being has ever returned...

Love will be sacrificed and lives lost in the terrible battle for the fate of the word in the thrilling final installment of the classic urban fantasy series The Mortal Instruments!
So, this not a review at all, just a lot of thoughts about the last book in the series that turned me into a reader.
I guess that the reason I'll never say anything bad about TMI, because if it wasn't for City of Bones, five years ago, I would have never been a reader. I would be a boring and angry zero-girl.
Anyway, even If I wasn't thankful for this series there's no reason to say something bad about City of Heavenly Fire.
It was an emotionally draining rollercoaster.
It was an incredibly satisfying ending.
I devoured this book even when I was trying to read it as slowly as possible. It was impossible. Cassandra Clare's writing is addictive and phenomenal! I cannot even believe I read 725 pages and I never got bored, I never wanted to stop, I never got tired of any of these characters.
I still have a book hangover because after all these years loving every characters, every challenge against the Shadowhunters, loving the world-building, the stories, it's impossible not to feel like a part of your life is missing.
"There are memories that time does not erase... Forever does not make loss forgettable, only bearable."
City of Heavenly Fire is epic, beautiful and heartbreaking.
I'm still amazed about how different each character is. The plot developed perfectly and the romance was always there, sweet and painful and real.
Oh, and well, I guess this is the part where I say that Simon Lewis is my favorite character ever! Yes, favorite, in the whole bookish world.
But is not just Simon that I love, I love all of them. Jace was my first book-boyfriend, Clary and Izzy are my heroines. And the others, well, I would NEVER forget their names. They're immortal to me.
So, about City of Heavenly Fire again… It was unforgettable. It had a lot of different POVs. Each of them was unique and important for the plot.
Betrayals, passionate romances, the strongest friendships and a thrilling and unforgettable last battle. City of Heavenly Fire is the best book I've read this year.
"Heroes aren't always the ones who win... They're the ones who lose, sometimes. But they keep fighting, they keep coming back. They don't give up. That's what makes them heroes."