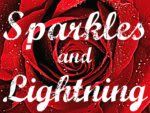 Like I said before, I love the blog Sparkles and Lightning, really. You can get there awesome reviews an a lot of great giveaways.
This time Annabelle is giving away a mystery box of stuff. With ARC, books, and swag. Fantastic, isn't it?
All you have to do is head over the blog.
SPARKLES AND LIGHTNING
.
Read her giveaway page and enter.
There are a lot of chances to win.
Don't miss any of these chances!