First of all, a huge thanks to AToMR for letting me a part of this blog tour. Specially because I'm so lucky to meet Ron. This is a plasure to me, to be part of the tour for her amazing book.
Silent Song
Author: Ron C. Nieto
Pages: 290
Goodreads AVG Rating: 4.24
The princess of the school, Alice, is keeping a secret that could strip her of her high school fame. She is obsessed with the school's outcast, Keith, but not just him – his music.
Since the inspiration for the song hit, Keith can't get it out of his mind. The song must be played; it demands to be played. He knows the music is changing him, but he is unable to stop it.
Music has the ability to move you, enlighten you, and take you to places you have never dreamed of. And this particular piece? It has a life of its own and makes you forget who you really are.
As Keith and Alice learn of one another to the notes of that one perfect tune, they can overlook their roles and discover who they could be together. But they also discover someone else is listening and intends on keeping Keith to herself, possibly for an eternity
.
My thoughts.
Some reviews are really difficult to write, specially when you have to write it in Spanish and then translate it with the best words you can find.
This was the case with Silent Song. Before being a book junkie, I was a music junky with a preference for guitar player. That's why I have to much to say about this story and just a few ways to tell it.
I discovered how smart Ron is. She took me to Alice's place easily, like if I really meet her in real life. I could feel the school life, the feeling of the first love, the passion for thing so amazing like theater and music.
I don't want to delve in the plot cuz there's too much to say about the surprise it gave and the impact it had on me.
I never tried to fool myself. I knew that when he stopped, I'd stand up and go home, and tomorrow I'd forget all about him, about his music.
In the morning, I'd hang out with Dave and the girls and be ashamed of these moments. I'd vow never to return to his window. I'd laugh, joke, study, and go out and dance and forget.
But night would come, and I'd be back in the dark neighborhood, stuck to this brick wall.

I use to rate the books I read based only in the way they made me feel. In fact, I read with the intention to feel anything! And Silent Song made me feel again, what was the reason why I love music so much.
The story is well-writing, beautiful, without unnecessary descriptions.
I loved every character in there. But I have to admit... well, it never was a secret, my favorite one was Keith, I love this guy and I would love to have a POV from him.
The ending of the book was sooooo WOW!! that was my favorite part, cuz, hell! I didn't expect it! The author made an incredible word putting the "paranormal" thing just right in the perfect place.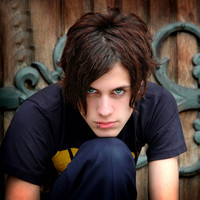 We chatted and laughed, and I was very careful not to look at him, not to stare at his black-nailed fingers, and definitely most careful not to wonder about what those fingers were capable of at night, dancing along the neck of a guitar.
... Right now I can say anything else, I think I say too many time the word "love it" and maybe I was clear with my reason why you should read this book.
You won't be dissappointed. Silent Song has the things you want to find in a book. And even more if you love music.
This was a story I would love to live.
Don't miss it.
About the author.
Ron C. Nieto is a fantasy and romance author who has been writing in her secluded fortress for the longest time. Recently, she had a talk with her cat and decided that she should share her creations, because it was selfish to hoard them all for herself, and so Silent Song was born as her debut novel.
Don't miss the other blog stops!
You can also enter here to a have a chance to win the book. Open internationally.
a Rafflecopter giveaway