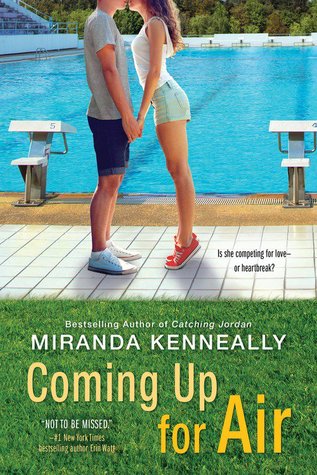 Coming Up for Air
(Hundred Oaks)
Source: eARC provided for review. Thank you!
Swim. Eat. Shower. School. Snack. Swim. Swim. Swim. Dinner. Homework. Bed. Repeat.

All of Maggie's focus and free time is spent swimming. She's not only striving to earn scholarships—she's training to qualify for the Olympics. It helps that her best friend, Levi, is also on the team and cheers her on. But Levi's already earned an Olympic try out, so she feels even more pressure to succeed. And it's not until Maggie's away on a college visit that she realizes how much of the "typical" high school experience she's missed by being in the pool.

Not one to shy away from a challenge, Maggie decides to squeeze the most out of her senior year. First up? Making out with a guy. And Levi could be the perfect candidate. After all, they already spend a lot of time together. But as Maggie slowly starts to uncover new feelings for Levi, how much is she willing to lose to win?
Oh my, this book made me want to read all the books in The Hundred Oaks series. I feel like I cheated a little because I only read Stealing Parker (I loved it!) and this book would be probably more emotional if I'd read Catching Jordan.
Anyway, this is the best friends-to-lovers book I've read. The shift in the relationship between Maggie and Levi was really smooth and I loved them to pieces.
But my favorite thing about this book was definitely all the knowledge I learned about swimming. I can't swim and that breaks my heart but that's my favorite sport to watch in the Olympics and after seeing how much heart these characters poured trying to accomplish their dreams, it made me like the sport even more!
I loved the group of friends, and how they always made time to see each other. I loved their conversations, the humor, and their personalities.
I can't think of a single thing I didn't like about this book.
Miranda Kenneally's writing is fast-paced and I loved the settings and the cast of characters she created.
This is definitely one of my fave "light reads"
If you're looking for something cute, fun and even sexy, you will love this book. I highly recommend it!