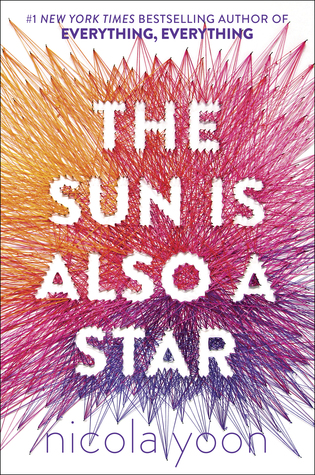 The Sun Is Also A Star
Source: ARC provided for review. Thank you!
Natasha: I'm a girl who believes in science and facts. Not fate. Not destiny. Or dreams that will never come true. I'm definitely not the kind of girl who meets a cute boy on a crowded New York City street and falls in love with him. Not when my family is twelve hours away from being deported to Jamaica. Falling in love with him won't be my story.
Daniel: I've always been the good son, the good student, living up to my parents' high expectations. Never the poet. Or the dreamer. But when I see her, I forget about all that. Something about Natasha makes me think that fate has something much more extraordinary in store—for both of us.
The Universe: Every moment in our lives has brought us to this single moment. A million futures lie before us. Which one will come true?
I'd love to thank Penguin Random House for the chance to read an early copy of this book. Sadly, I couldn't read before the release date (I've been a little ill), but now I finally read it and I loved it.
The Sun Is Also a Star is my first book by Nicola Yoon, and it was everything I've been told!
I've never read a book like this before. The writing was beautiful and the format was unexpected. This book was probably the best diverse book I've read this year. The characters were so well developed and I loved every one of them.
This was such a deep and fast paced read. TSIAAS is narrated by Natasha and Daniel with the POVs of random secondary characters. How cool is that? I loved it because I always wonder what's happening to all the people I don't know. That made me fall in love with the book even more.
The Sun Is Also a Star is about destiny or coincidence. It's about how we're all the same, no matter the country or continent you come from.
I have to admit I was a bit doubtful about The Sun Is Also a Star because it has an insta-love. And I hate insta-love more than anything. But the author created an atmosphere so vivid and splendid that I forgot the story plays out in one day. I've read books like this before (like Graffiti Moon if I'm not wrong) and I loved them as well. There's stupid insta-love and there's sweet and meant to be-like insta-love.
So, yes, I kinda liked the insta-love. I loved the characters, the setting, the writing, the plot.
But what I liked the most was how realistic it was about the situation with immigrants.
Beware, because this is a very personal opinion.
I live in my own country. A poor country. A violent country (in fact, my country is mentioned in the book as one of the places with the highest homicide rates). I don't have many relatives living in the US, but ALL my friends, I kid you not, live there. They are immigrants. They went because our country is ruined. They went looking for a better chance at life for their families or they kids.
One of the hardest things that Natasha portrayed in the book is that THIS (the place where they were born) is not their country anymore. Yes, they were born here and their family is here, but you know what? Something that many people don't say is that we, the people still living in our country, are resentful of immigrants. We still love them, but there's a tiny part of us thinking "you don't belong here anymore." Can you imagine how hard it is for immigrants feeling like they don't belong here or there?
I've met people who almost killed themselves because they were so depressed after being deported.
The Sun Is Also a Star is not only a good written book with lovely characters and plot. It's an important book.
So well deserved 5 stars for this one.