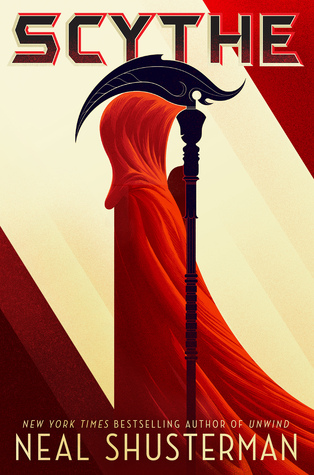 Scythe
Source: eARC provided for review, thank you!
In a world where disease has been eliminated, the only way to die is to be randomly killed ("gleaned") by professional reapers ("scythes"). Citra and Rowan are teenagers who have been selected to be scythe's apprentices, and—despite wanting nothing to do with the vocation—they must learn the art of killing and come to understand the necessity of what they do.

Only one of them will be chosen as a scythe's apprentice. And when it becomes clear that the winning apprentice's first task will be to glean the loser, Citra and Rowan are pitted against one another in a fight for their lives.
I'm a huge fan of the Unwind Dystology by Neal Shusterman, that's why as soon I heard about Scythe, I couldn't wait to read it. Luckily I was approved via Edelwiss to read an e-ARC.
I thought it would be easy to write about one of my favorite authors, but Scythe wasn't what I was expecting at all. I'm not sure if I liked or loved this book (I didn't hate it for sure).
For starters, Scythe is being pitched as a dystopian book, but it doesn't feel like dystopian. The world of Scythe is Utopian. People live forever if they want, they only have to "turn the corner" (a procedure to be younger) or go to a "revival center" in case of a fatal accident, so they can be revived and get perfectly healthy in a matter of days. Unless of course, they are selected for "gleaning".
The world-building of Scythe is masterfully created. There's something almost magical about Neal Shusterman's ability to make you believe everything he writes. There are some interesting terms and groups I'd never thought about, but that fit perfectly in that kind of future.
I don't think I can say that Scythe was a past-faced read. The beginning was a little slow and the whole book kept a steady rhythm. Anyway, I loved the format of the book. It's told from Citra and Rowan's POVs plus some entries from the Scythes' journals. These journals, by the way, were a great source for the world-building and these were some of my favorite parts to read.
Unlike some books I've read this year, the beauty of Scythe is not in the action packed plot, but in its incredibly well developed world.
I thought the synopsis said too much, but in fact, the synopsis hides some big surprises. There were some unexpected twists and turns.
Although the story is about their journeys, Citra and Rowan were half of the book apart so there's no romance between them (but they were kind of in love). I still don't understand why and how they fell in love with each other, so I'm glad for the no romance and at the same time I'm a little disappointed.
I really liked Scythe. It keeps Neal Shusterman's neat writing style and has some great characters. I loved the Scythes and their philosophies and ethics (I have to say they reminded me of the Silent Brothers).
I can't think of anything I hated, I just was expecting a little more, though I'm not sure what.
I've heard it's the first of a trilogy, but the ending was amazing and closed everything perfectly so it feels like a standalone.
Overall, I enjoyed Scythe. It was thrilling
and philosophical. And I'd recommend it to everyone. I can't wait for the next one!