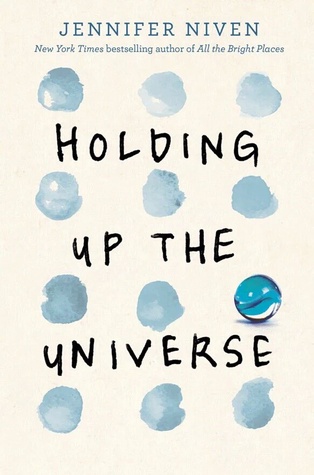 Source: ARC provided for review. Thank you!
Everyone thinks they know Libby Strout, the girl once dubbed "America's Fattest Teen." But no one's taken the time to look past her weight to get to know who she really is. Following her mom's death, she's been picking up the pieces in the privacy of her home, dealing with her heartbroken father and her own grief. Now, Libby's ready: for high school, for new friends, for love, and for EVERY POSSIBILITY LIFE HAS TO OFFER. In that moment, I know the part I want to play here at MVB High. I want to be the girl who can do anything.
Everyone thinks they know Jack Masselin, too. Yes, he's got swagger, but he's also mastered the impossible art of giving people what they want, of fitting in. What no one knows is that Jack has a newly acquired secret: he can't recognize faces. Even his own brothers are strangers to him. He's the guy who can re-engineer and rebuild anything in new and bad-ass ways, but he can't understand what's going on with the inner workings of his brain. So he tells himself to play it cool: Be charming. Be hilarious. Don't get too close to anyone.
Until he meets Libby. When the two get tangled up in a cruel high school game—which lands them in group counseling and community service—Libby and Jack are both pissed, and then surprised. Because the more time they spend together, the less alone they feel. . . . Because sometimes when you meet someone, it changes the world, theirs and yours.



Jennifer Niven is one of the nicest authors out there. All The Bright Places is one of my favorite books. Ever.
So, when I heard about her new book I was dying to read it. I couldn't wait. Thankfully I got an ARC (thanks so much PRH Global!) and I couldn't be happier.
Jennifer Niven once again delivers a brilliant and poignant story about finding yourself, second chances and the wonderful magic of falling in love for the first time.
The story starts with a letter from Jack to someone writing about his biggest secret: he has prosopagnosia, a condition that makes it impossible for him to recognize faces. It's fair to say that the book caught me right away; I couldn't wait to know how that condition was portrayed and how Jack was dealing with it.
Then, there's Libby. She's going back to school for the first time after some years. After she received the title of: "American's Fattest Teen."
I know some people have issues with the summary of this book, but let me tell you this: Holding Up The Universe is respectful and realistic in every sense. Before judging, ask yourself this: Have any of this happened to you? Because yeah, I was fat when I was a kid, I wasn't bullied cruelty, but my worst enemy was me. So, I can totally relate to Libby.
Jack and Libby are lovable characters. Their stories are heartbreaking and their journey is tough, but they have bright spirits and the attitude every person should have.
I don't even know how to explain how good this book made me feel. And that's the best thing. It. Made. Me. Feel.
Empathy, respect, delight, admiration, camaraderie, understanding.
I loved how Jennifer Niven created such a diverse cast of characters and how each one of them was unique in their own way.
I loved how the love story developed. Slow and sweet. There was no need to rush things and the author did a great job portraying their emotions and fears. I, personally, don't think the plot focused only in their love story.
Holding Up The Universe made me realize how much we can hurt people even without meaning to.
This book is about being seen and finding courage. It has such a positive message. I wish every teen out there can read it and realize they are WANTED.
Jack and Libby are one of those larger-than-life characters I'll never forget.
I highly recommend this book to everyone. Thanks God, it doesn't have a heartbreaking ending, but one full of cheerfulness and hope.
If you want a smile on your face, then go ahead and read this book.