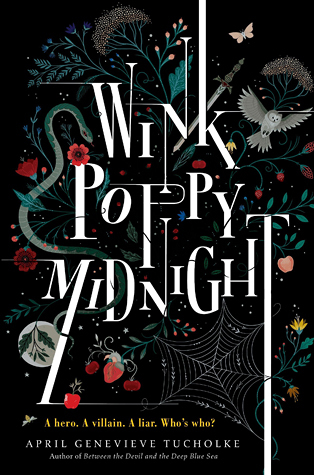 Wink Poppy Midnight
by April Genevieve Tucholke
Every story needs a hero.
Every story needs a villain.
Every story needs a secret.
Wink is the odd, mysterious neighbor girl, wild red hair and freckles. Poppy is the blond bully and the beautiful, manipulative high school queen bee. Midnight is the sweet, uncertain boy caught between them. Wink. Poppy. Midnight. Two girls. One boy. Three voices that burst onto the page in short, sharp, bewitching chapters, and spiral swiftly and inexorably toward something terrible or tricky or tremendous.
What really happened?
Someone knows.
****
Wink Poppy Midnight was read my first book by April Genevieve Tucholke and it did not disappoint! I knew I had to read it as soon as I read the synopsis and started reading everywhere how weird it was.
To be honest, I didn't find it enormously weird, but maybe that's because I've read many books with weird characters that now I find them normal. Anyway, this book was different and a bit… gothic?
Wink, Poppy and Midnight are some very singular characters. The book is narrated through their POVs, first person, and though Midnight is the one who lead the story, with longer and clearer chapters, the girls' chapters are alluring and addictive.
"Revenge. Justice. Love. They are the three stories that all other stories are made up of. It's the trifecta."
I really liked the writing of this book. Most of the chapters were short, and that made it a page turner.
Most of the characters are bad, mean, but somehow I ended up caring about them and I loved reading their stories. I had a fun time trying to figure out if Poppy was really the villain, and Wink the liar, or the other way around. I wanted to know if Midnight was really the hero or not.
The ending was unexpected, and twisted, and it finally gave me all the answers I needed. I loved it!
It was the perfect ending to that… ok, weird plot.
Can I say now how much I love that cover? Oh God! It's so freaking beautiful and it match the story inside.
I loved Wink Poppy Midnight and if you still haven't read it, you must!