#WelcomeToTheParty.
Welcome to my stop in the UK Blog Tour for Unrivalled by Alyson Noel. I loved her Immortal Series and I'm so happy to be part of her worlds once again. I have 4 stars review to share with you today. Thanks for stopping by.
THE BOOK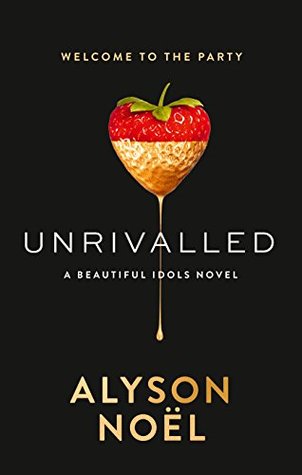 UNRIVALLED
BOOK ONE: BEAUTIFUL IDOLS SERIES
Published by MIRA in paperback and eBook 10TH May 2016, £ 7.99
From #1 New York Times bestselling author Alyson Noël comes the first book in the Beautiful Idols series. With mystery, suspense, and an insiders-only look at Los Angeles that echoes Gossip Girl's racy and real New York, fans of Pretty Little Liars and readers who crave pulse-pounding romance will love Unrivalled.

EVERYONE wants to be someone.

Layla Harrison wants to be a reporter.

Aster Amirpour wants to be an actress.

Tommy Phillips wants to be a guitar hero.

But Madison Brooks took destiny and made it her own a long time ago.

She's Hollywood's hottest starlet, and the things she did to become the name on everyone's lips are merely a stain on the pavement, ground beneath her Louboutin heel.
That is, until Layla, Aster, and Tommy find themselves with a VIP invite to the world of Los Angeles's nightlife and are lured into a competition. The prize, or rather the target? Madison Brooks.




Just as their hopes begin to gleam like stars through the California smog, Madison Brooks goes missing. . . . And all of their hopes are blacked out in the haze of their lies.
Unrivalled
is being launched by HarperCollins' global publishing program and will be released simultaneously in 16 languages in over 200 countries on May 10th 2016


ADVANCE PRAISE FOR UNRIVALLED
"Not all of L.A.'s beautiful people lead beautiful lives. Alyson Noël shows us with the details of an observant insider what they're really up to, late into the night. Like a good celebrity, Unrivalled is mysterious and compelling and so gorgeous you won't be able to look away"
Cecily von Ziegesar author of the Gossip Girl series
"This glitzy, suspenseful, shamelessly addictive read offers an all-access pass to the glimmering world of Hollywood celebrity, where fame is a game, dark secrets are currency, and love doesn't come without a high price."
Margaret Stohl, #1 New York Times bestselling author of Beautiful Creatures
"Unrivaled will have you hooked from the very first page. Everything from the glitzy setting to the suspenseful plot is pure gold." Jamie McGuire, #1 New York Times bestselling author of Beautiful Disaster
My Review:
Thanks to Mira Ink for the review copy!
****
Unrivalled by Alyson Noel is an entertaining story filled with glamour, mystery secrets and lies. Like the praise says, it's perfect for fans of Gossip Girl and Pretty Little Liars.
I started reading this book with low expectations, because this is not my usual read, so I was really shocked when I found it impossible to put down.
Unrivalled is the story of teens hungry for fame and attention.
Layla wants to be a reporter, but she needs the money to attend the school she wants. She's the blogger behind The Beautiful Idols blog, a blog about celebrity gossip.
Tommy wants to be a guitar hero, but she came to LA for a very personal, and secret, purpose.
Aster wants to be an actress, but she wants to escape the life designed by her parents.
Madison Brooks is the hottest star of the moment, but her life is far more complicated than she lets on.
They are the main characters of Unrivalled, and their life converge when Ira Redman, the owner of the most popular nightclubs of LA, decides to host a contest to promote his clubs. The winner will be the one who brings the most popular stars to the club, the ones on his list, and Madison Brooks is the first of that list.
When Layla, Tommy and Aster enter the contest is when things start to get dirty. Every one of them has to use every trick to gain points. Their behaviors shift, their need to win gets the worst of them.
I enjoyed this book so much even though the mystery starts almost in the end of the book. But there are lies and secret in every page. This book is a fresh and fast paced read and while the more interesting character is the very Madison Brooks, every one of them has something to tell, someone to betray and secrets to keep.
If you enjoy books like Gossip Girl and I'm sure you'll enjoy this book. The start is a little slow, but once you're in, there's nothing that will stop you to reach the end.
I'm so looking forward to next book in this series!
ABOUT THE AUTHOR: Number One New York Times bestselling author Alyson Noël has won numerous awards and achieved international bestseller status for her wildly popular young adult series, The Immortals and The Soul Seekers, and her middle grade series, Riley Bloom. Alyson Noël is an established global phenomenon with books printed in 36 languages and sold in over 50 countries. Now she is taking on the seductive world of L.A. nightlife in a new series using what she knows best: steamy romance and high-stakes Hollywood competition.
Alyson Noël is the bestselling author of twenty-three novels, including The Immortals, Riley Bloom, and Soul Seekers series. With millions of copies in print, her books have been translated in thirty-six languages and have made numerous international bestseller lists. Born and raised in Orange County, California, she's lived in both Mykonos and Manhattan, and is now settled back in Southern California, where she's working on her next book. You can visit her online at www.alysonnoel.com