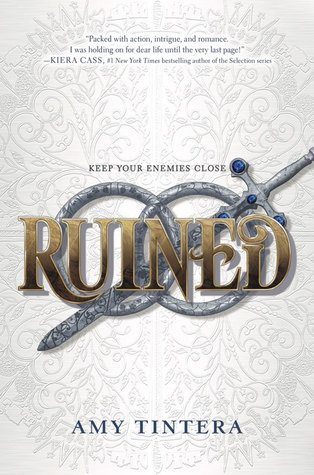 Ruined (Ruined #1)
Source: eARC provided by Publisher. Thank you!
A revenge that will consume her. A love that will ruin her.

Emelina Flores has nothing. Her home in Ruina has been ravaged by war. She lacks the powers of her fellow Ruined. Worst of all, she witnessed her parents' brutal murders and watched helplessly as her sister, Olivia, was kidnapped.

But because Em has nothing, she has nothing to lose. Driven by a blind desire for revenge, Em sets off on a dangerous journey to the enemy kingdom of Lera. Somewhere within Lera's borders, Em hopes to find Olivia. But in order to find her, Em must infiltrate the royal family.

In a brilliant, elaborate plan of deception and murder, Em marries Prince Casimir, next in line to take Lera's throne. If anyone in Lera discovers Em is not Casimir's true betrothed, Em will be executed on the spot. But it's the only way to salvage Em's kingdom and what is left of her family.

Em is determined to succeed, but the closer she gets to the prince, the more she questions her mission. Em's rage-filled heart begins to soften. But with her life—and her family—on the line, love could be Em's deadliest mistake.
I was not expecting to like this book so much! And I'm so glad to say this because I was a bit of unsure of reading Ruined, since Reboot was really disappointing and the pitch about a bloody war and a kick ass character sounded a little similar.
Luckily, Ruined was better than that.
I'm going to be really honest here. I didn't find anything new or different about Ruined compared to other fantasy books with characters in disguise. I didn't even feel surprised of the twist and turns because there was nothing unexpected about them. But the real awesomeness of this book was in the characters and the way the plot was developed.
The writing was fast faced and though it felt a little bit modern, this book was almost impossible to put it down.
My problem with Amy Tintera's other series and how easy the main character changed her personality after she met the love interest. But in Ruined, the relationship between Em and Cas was built slowly and their interaction made possible for the romance to feel authentic.
Another thing I enjoyed a lot about Ruined is how "gray" are the characters and the kingdoms. For me, it felt like there was no villain or hero, because every one of them made some evil things, and though I felt sympathy for them, I also felt a little of hatred. I don't know if I'm the one who thinks that, but I liked that about a fantasy book. That's the thing I found different about it.
So, if you're looking for a action packed fantasy read with kick ass characters and a solid plot, you should definitely give Ruined a chance. Well deserved 4 stars for this book.