Today I have the amazing debut author Heidi Heilig here. Her book "The Girl from Everywhere" was one of my most anticipated books of this year, and though I still haven't read it, I've heard nothing but great things about it.
Heidi was kind enough to tell us her favorite myth.
Are you ready? Check it out!
My favorite myth is the epic of Gilgamesh, which is an ancient Sumerian poem that is often thought of as the earliest piece of great literature.
When I was a kid, my father read me all sorts of myths and legends, and when he picked up the Gilgamesh, I was shocked that the introduction was longer than the actual story!
Now that I'm older, I appreciate all those extra pieces of information about old legends, and try to work them into the stories I tell myself.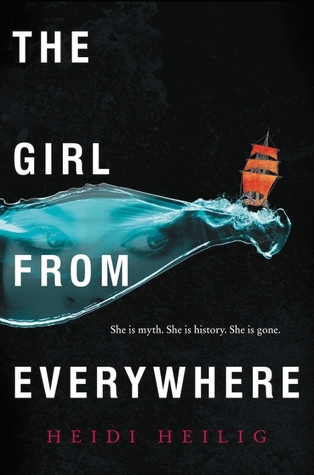 Nix has spent her entire life aboard her father's ship, sailing across the centuries, across the world, across myth and imagination.
As long as her father has a map for it, he can sail to any time, any place, real or imagined: nineteenth-century China, the land from One Thousand and One Nights, a mythic version of Africa. Along the way they have found crewmates and friends, and even a disarming thief who could come to mean much more to Nix.
But the end to it all looms closer every day.
Her father is obsessed with obtaining the one map, 1868 Honolulu, that could take him back to his lost love, Nix's mother. Even though getting it—and going there—could erase Nix's very existence.
For the first time, Nix is entering unknown waters.
She could find herself, find her family, find her own fantastical ability, her own epic love.
Or she could disappear.