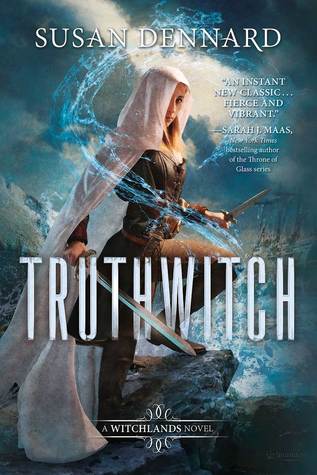 In a continent on the edge of war, two witches hold its fate in their hands.

Young witches Safiya and Iseult have a habit of finding trouble. After clashing with a powerful Guildmaster and his ruthless Bloodwitch bodyguard, the friends are forced to flee their home.

Safi must avoid capture at all costs as she's a rare Truthwitch, able to discern truth from lies. Many would kill for her magic, so Safi must keep it hidden - lest she be used in the struggle between empires. And Iseult's true powers are hidden even from herself.

In a chance encounter at Court, Safi meets Prince Merik and makes him a reluctant ally. However, his help may not slow down the Bloodwitch now hot on the girls' heels. All Safi and Iseult want is their freedom, but danger lies ahead. With war coming, treaties breaking and a magical contagion sweeping the land, the friends will have to fight emperors and mercenaries alike. For some will stop at nothing to get their hands on a Truthwitch.
I BECAME A TRUTHWITCH FANGIRL.
There are Truthwitch reviews everywhere, so I wasn't going to write one. BUT I wanted to shout out how much I loved this book. So I'll go with this: I became a Truthwitch fangirl.
I'm a misfit and a daydreamer
: If you're following Susan then you know what this is. If you don't know: The misfits and the daydreamers is how Susan calls her readers and how she divides her newsletters.
Well, I haven't read Something Strange and Deadly, though I own the three books. And I've been following Susan's For Writers posts for a while now. This means that I knew a little about Truthwitch even before there were ARCs, because sometimes Susan used Truthwitch as example for her writing tips. I knew Iseult when she was named Sorsha. I knew Aeduan when Susan wrote about COOKIES and her writing cookie was: Aeduan, my love. (I love those posts so I have them bookmarked).
I've been dying to read this book since then, but you know, my wallet wouldn't let me buy it before.
The Friendship makes me wonder
…
I love Safi and Iseult's friendship so much. They are badass together. And that's why I'm wondering if they are going to drift apart someday. Maybe not enemies but go on different sides. Or maybe they'll be together to the end. That friendship alone makes me want to read the next books.
I want Aeduan and Iseult to be together.
Badly.
This is silly, and I don't "ship" couples. But there is something about these characters… oh boy, I really, really want at least one kiss between them.
I loved Merik and Safi trying to kill each other
. Every single time.
Oh, the romance between these two. I don't know if this was hate-to-love or love-to-hate-to-love. They are wild so perfect together!
I loved the magical system and the myths inside the world.
The Origin Wells, the Cahr Awen, the Cleaved, the Puppeteer, I loved them all.
I loved Susan Dennard's neat writing.
Susan is brilliant. And since I've read how hard she's been working on this series, now I know that it was worth it.
And that's it. Of course, I love many more things, but these are my favorites. Now, if YOU haven't read this book or subscribe to Susan's newsletter, do it now!