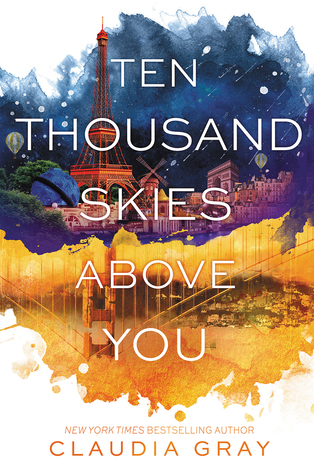 Ten Thousand Skies Above You
Source: Publisher. Thank you!
Ever since she used the Firebird, her parents' invention, to cross into alternate dimensions, Marguerite has caught the attention of enemies who will do anything to force her into helping them dominate the multiverse—even hurting the people she loves. She resists until her boyfriend, Paul, is attacked and his consciousness scattered across multiple dimensions.




Marguerite has no choice but to search for each splinter of Paul's soul. The hunt sends her racing through a war-torn San Francisco, the criminal underworld of New York City, and a glittering Paris where another Marguerite hides a shocking secret. Each world brings Marguerite one step closer to rescuing Paul. But with each trial she faces, she begins to question the destiny she thought they shared.


The second book in the Firebird trilogy, Ten Thousand Skies Above You features Claudia Gray's lush, romantic language and smart, exciting action, and will have readers clamoring for the next book
You have no idea how happy I am to be writing about this book. I HATED Marguerite, the main character, in the first book. I couldn't forgive her for something she did, so I didn't want to read this one. I wasn't going to.
BUT, aside from Marguerite I love everything about A Thousand Pieces Of You. I loved the world-building of every one of the worlds. I loved Theo and Paul. I loved the writing. I loved the idea of the multiverses and the Firebird.
Then I read the synopsis of this book and it reminded me right away of an anime I love: "Tsubasa Chronicle". In that anime Princess Sakura's soul is splintered in many pieces in the form as feathers and Syaoran (the love interest) has to travel different universes to rescue them.
That's why I gave The Firebird series a second chance. Because I wanted to know if it was like Tsubasa Chronicle.
Marguerite still drives me nuts, but every one of the things I loved about the first book were still there, and with Marguerite realizing how wrong she was, I was able to move on and the enjoy this book for what it was.
Yes, this means I loved Ten Thousand Skies Above You. Claudia Gray did such a great job creating so many unique worlds, twisting the plot and redeeming her characters.
I still have a few problems with the romance, mostly because it frustrates that they're always separate. Damn, I want them together!
Except from that, Ten Thousand Skies Above You was perfection. I don't know much about science (though I love to read about it), but the concepts behind the Firebird seemed realistic and well crafted (is it the right word?).
The worlds they visited in this book were amazing and so different one from each other.
You know what? I'm dying to read the last book. I'm so looking forward to the end of this series and hopefully it'll be as amazing as this one was.