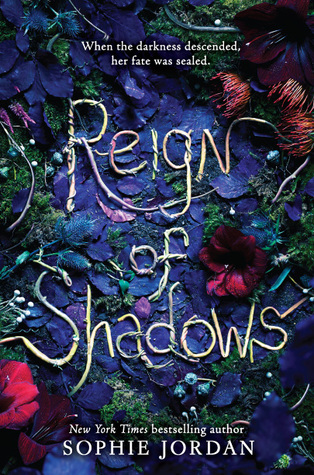 Seventeen years ago, an eclipse cloaked the kingdom of Relhok in perpetual darkness. In the chaos, an evil chancellor murdered the king and queen and seized their throne. Luna, Relhok's lost princess, has been hiding in a tower ever since. Luna's survival depends on the world believing she is dead.

But that doesn't stop Luna from wanting more. When she meets Fowler, a mysterious archer braving the woods outside her tower, Luna is drawn to him despite the risk. When the tower is attacked, Luna and Fowler escape together. But this world of darkness is more treacherous than Luna ever realized.

With every threat stacked against them, Luna and Fowler find solace in each other. But with secrets still unspoken between them, falling in love might be their most dangerous journey yet.

With lush writing and a star–crossed romance, Reign of Shadows is Sophie Jordan at her best.
Well, I don't know how to start with this. The truth is I didn't love this book. And I didn't hate it either. It just wasn't for me.
Writing this is complicated because the book wasn't bad, but I couldn't connect with the characters. I found it boring and I was about to DNF twice.
So, why did I finish it, then? I don't know, maybe because I don't like to DNF books, or because the writing was actually good, or because I was curious about the ending.
You see, Reign of Shadows is a story about a girl trapped in a tower, trapped in a world of eternal darkness with zombie-like creatures destroying humanity. It sounds quite interesting, but as soon as I started reading it I knew I wouldn't like Luna, the main character. She's whiny, she's annoying, she's ungrateful. Sure, I understood her reasons, but I still didn't like it.
The turning point is when she escapes to the forest outside the tower and helps someone in need. She's been living her whole life with two persons, so, of course, meeting new human beings is the most incredible thing that ever happened to her.
That's when the problems (for me) started:
Problem 1: When she meets the love interest, she falls in this category I call "Love by Default". She doesn't know more people, so, it's obvious she will fall in love with the first young man she ever meets.

Even when that guy didn't have anything special (at least to me).
Problem 2: The book is narrated by both, Luna and Fowler. I liked better his POV, but since the book was already boring, the shifts in the POVs made it even slower.
Problem 3: Luna was already annoying. Meeting new people makes her even more annoying. She wants to get out of the tower. She wants them to stay. She wants to be free. She wants. She wants.
Problem 4: What happens next is absolutely predictable. I continued reading because I wanted to prove myself wrong. I wanted to be surprised. I wasn't.
Problem 5: It was hard for me to keep track of the time. So, when the romance really started I didn't know how much time passed since they met. When she says something like "leaving him is harder than leaving them" meaning her caretakers, I was shocked! They lived with her since she was born, she's been with this guys just… a few days I think.
Problem 6: It reminded me of many books: Graceling, Of Beast and Beauty, Princess of Thorns. I'm not the biggest fan of Graceling, but I loved the writing. Same with Stacey Jay's books. They were "travel books" with great writing. Reign of Shadows was a "travel book" with a good writing that wasn't enough.
Do you see? I can't find anything I loved about Reign of Shadows. Sure, I liked the world-building. It had a good writing. I managed to read it, but it really wasn't for me.
I'm so sad, but I won't be reading the next books in this series. There's nothing that makes me want to go back to this world.