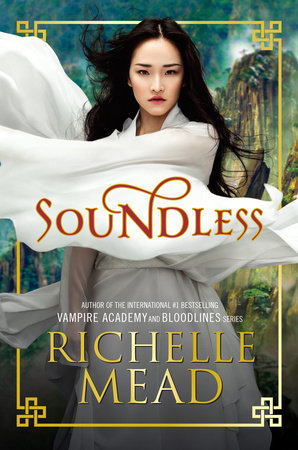 Soundless
Source: ARC for review thanks to Kim.
For as long as Fei can remember, no one in her village has been able to hear. Rocky terrain and frequent avalanches make it impossible to leave the village, so Fei and her people are at the mercy of a zipline that carries food up the treacherous cliffs from Beiguo, a mysterious faraway kingdom.

When villagers begin to lose their sight, deliveries from the zipline shrink. Many go hungry. Fei and all the people she loves are plunged into crisis, with nothing to look forward to but darkness and starvation.

One girl hears a call to action…

Until one night, Fei is awoken by a searing noise. Sound becomes her weapon.

She sets out to uncover what's happened to her and to fight the dangers threatening her village. A handsome miner with a revolutionary spirit accompanies Fei on her quest, bringing with him new risks and the possibility of romance. They embark on a majestic journey from the peak of their jagged mountain village to the valley of Beiguo, where a startling truth will change their lives forever…

And unlocks a power that will save her people.
****
I'm not the biggest fan of Richelle Mead. In fact, I haven't finished the VA series and I spoiled myself when I read the first Bloodlines book (don't kill me, fortunately I've forgotten a lot).
However, when I first heard about Soundless I was dying to read it. Even though my friends' reviews weren't amazing, I still wanted to read it because I loved everything I knew about this book.
Now I can't say that I'm disappointed but I'm not that freaking excited anymore.
Soundless was a great book but it felt more like a "tale" than a "book". You might think I'm crazy but I felt calm while reading it. I took seriously the mute thing and pictured signs and gestures instead of voices. Soundless felt vivid and cute.
The problem is that this book didn't amaze me. It was kind of predictable and linear. I never had a jab-dropping moment. Also, many situations of the story were hard, but I didn't feel the emotional impact.
The main character was good and strong, but also a little plain. I understood Fei's situation, though many times I wanted to kick her ass. Mostly when it came to Li Wei, the love interest.
I've read many people complaining about the world-building. It wasn't a problem for me because like I said, it felt like a tale and I don't need a big world-building in tales.
Overall, if you want to read Soundless, approach it like a fast passed read. Don't expect too much and you'll be able to enjoy it. I did.