I've been absent the last couple of months because I'm trying to go back to college and I have to approve an admission test, but I don't remember much about, well, math, so I'm studying like crazy.
Anyway, I've read a few books these days and one of those was "Te daria el sol" the Spanish edition of I'll Give You The Sun by Jandy Nelson.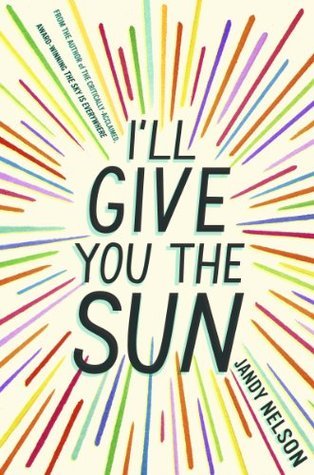 I'll Give You the Sun
by
Jandy Nelson
GoodReads
/
Amazon
/
TBD
Summary.
Jude and her twin brother, Noah, are incredibly close. At thirteen, isolated Noah draws constantly and is falling in love with the charismatic boy next door, while daredevil Jude cliff-dives and wears red-red lipstick and does the talking for both of them. But three years later, Jude and Noah are barely speaking. Something has happened to wreck the twins in different and dramatic ways . . . until Jude meets a cocky, broken, beautiful boy, as well as someone else—an even more unpredictable new force in her life. The early years are Noah's story to tell. The later years are Jude's. What the twins don't realize is that they each have only half the story, and if they could just find their way back to one another, they'd have a chance to remake their world.
I'll Give You The Sun felt exactly like The Sky Is Everywhere. I mean, if you read Jandy Nelson's debut novel and had all those crazy feelings while doing it, then you have to know that I'll Give You The Sun will break your heart and then heal it and make you cry and smile at the same time.
Jandy Nelson writing is beautiful. Her characters are complex and complete.
The plot was a little predictable, but for the first time I didn't care that I guessed the twist right, because the beauty was in the writing, in the character's personalities, in the family dynamics.
Jandy Nelson gets me. And this is a completely personal opinion. The weirdness of her characters, their love for art, and their love for the family… all those things feel real to me. There's magic inside of those pages. I can't help but feel happiness every time I read a book by her.
I know I'm not saying much, except for how much I loved this book. But let me tell you this: if you need a book to make you feel light, then you should give a try to this book.
I'll Give You Sun is radiant and electric. It doesn't need a ton of romantic scenes or drama to make you swoon or cry.
I am in love with this book and if you read it, I bet you at least will enjoy it a lot.
Have a great day and keep reading.
"Meeting your soul mate is like walking into a house you've been in before - you will recognize the furniture, the pictures on the wall, the books on the shelves, the contents of drawers: You could find your way around in the dark if you had to."