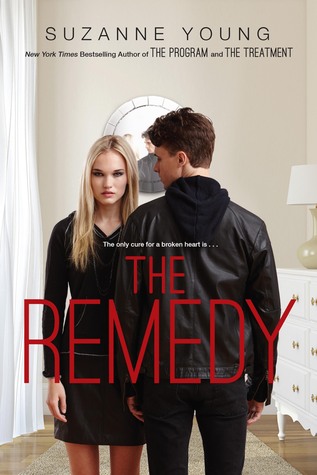 The Remedy
Source: eARC provided for review. Thanks!
In a world before The Program…

Quinlan McKee is a closer. Since the age of seven, Quinn has held the responsibility of providing closure to grieving families with a special skill—she can "become" anyone.

Recommended by grief counselors, Quinn is hired by families to take on the short-term role of a deceased loved one between the ages of fifteen and twenty. She's not an exact copy, of course, but she wears their clothes and changes her hair, studies them through pictures and videos, and soon, Quinn can act like them, smell like them, and be them for all intents and purposes. But to do her job successfully, she can't get attached.

Now seventeen, Quinn is deft at recreating herself, sometimes confusing her own past with those of the people she's portrayed. When she's given her longest assignment, playing the role of Catalina Barnes, Quinn begins to bond with the deceased girl's boyfriend. But that's only the beginning of the complications, especially when Quinn finds out the truth about Catalina's death. And the epidemic it could start.
I've read a lot of different worlds since I became a reader. It's one of the things a love the most about reading: finding things I never dared to imagine.
The Remedy is one of those books.
I loved to read about the journey of Quinn, how she manages to became different people and put a piece of her heart in every one of them.
The world before The Program was just as messed up as the world of Sloan and James. And that was brilliant!
I'm not going to lie. There were times when I felt sick reading some chapters and picturing the worst.
What made me feel uneasy was the relationship between Quinn and Isaac, the dead girl's boyfriend.
I was so afraid to see Quinn losing herself. I was afraid that relationship would never change.
I was afraid about a lot of things in this book. But once again, Suzanne Young did not disappoint.
I don't know if I should say that there's a love triangle. Because I felt the only real relationship is between Quinn and Deacon. But one of the things I liked the most was that the romance is not main topic in this book.
Suzanne Young has a wonderful talent to write about sadness and grief. Her writing is so addictive, it'll let you desperate for more.
Every character was interesting to read, and easy to like.

The plot is phenomenal and the world building is fascinating.
Believe me when I say that The Remedy feels real. It feels awfully real.
So, of you want to read a book that will have you on the edge of your seat. You have to read The Remedy.