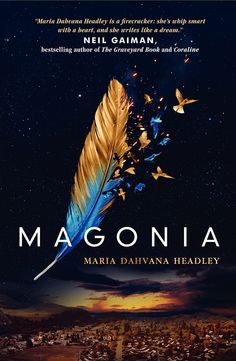 MAGONIA
Source: eARC provided for review. Thank you!
Neil Gaiman's Stardust meets John Green's The Fault in Our Stars in this fantasy about a girl caught between two worlds…two races…and two destinies.

Aza Ray is drowning in thin air.

Since she was a baby, Aza has suffered from a mysterious lung disease that makes it ever harder for her to breathe, to speak—to live.

So when Aza catches a glimpse of a ship in the sky, her family chalks it up to a cruel side effect of her medication. But Aza doesn't think this is a hallucination. She can hear someone on the ship calling her name.

Only her best friend, Jason, listens. Jason, who's always been there. Jason, for whom she might have more-than-friendly feelings. But before Aza can consider that thrilling idea, something goes terribly wrong. Aza is lost to our world—and found, by another. Magonia.

Above the clouds, in a land of trading ships, Aza is not the weak and dying thing she was. In Magonia, she can breathe for the first time. Better, she has immense power—and as she navigates her new life, she discovers that war is coming. Magonia and Earth are on the cusp of a reckoning. And in Aza's hands lies the fate of the whole of humanity—including the boy who loves her. Where do her loyalties lie?
It took me one month to finish Magonia.
That doesn't sound so good, I know. But I'm one of those people that never DNF a book, so I read (mostly) one chapter a day.
Magonia wasn't bad. In fact, it had one of the most original and imaginative worlds I've ever read.
Many people compared it with Daughter of Smoke and Bone, because the creativeness of the "story" was that great.
The writing was good too, though since Magonia felt magical and fantastic I would've liked a writing style more lyrical instead of the witty POV of Aza.
My problem with Magonia was that I couldn't connect with the characters. I just didn't care about them.
Aza, the main character reminded me of the main character of Side Effects May Vary, and if I remember well enough, she was the only sick character that I wished died in the end. Thankfully, after she discovers Magonia she becomes a better character.
There's also a POV from Jason, the boy Aza's in love with. I liked him better, but still, it wasn't enough.
The plot twist wasn't a surprise, so the ending didn't add another star from me.
I can say I liked Magonia, I enjoyed reading about this world and the ships in the sky and all the wonderful things from above, but the characters disappointed me.
I'm sad to say that if there's a sequel, I don't think I'll read it.
I like the sky. It's rational to me in a way that life isn't. Looking at it doesn't suck the way you might think it would, given all the dying-girl-stares-at-heaven possibilities. I don't think of the sky as any kind of heaven item. I think of it as a bunch of gases and faraway echoes of things that used to be on fire.