My Never-ending Booknotes is a weekly meme created by my awesome friend April @ Books 4 Juliet where we can share our favorites quotes or conversation from a book.
If you want to join, just go HERE and have fun.
I don't read historical fiction. I really don't.
But I've read some short stories by Saundra Mitchell and I just loved her writing, that's why I read The Vespertine.
And the writing was just as gorgeous as I expected. So, here's my favorite booknotes of The Vespertine.
"The stars could have burned out around us, the moon could have fallen from the sky, and

I wouldn't have known it. Not when he leaned indecently close and pressed his cheek against mine to murmur, "Tell me a secret."

I wanted him to tell me how he stopped time like that. How he read my mind. I wanted to admit I wondered if thoughts of me troubled him when he lay awake at night. But I could make none of that come to my lips...."
"You're the only fire that consumes me." And my wonderful monster smiled at that. Smiled at me."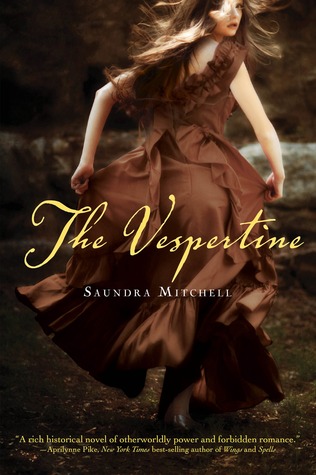 It's the summer of 1889, and Amelia van den Broek is new to Baltimore and eager to take in all the pleasures the city has to offer. But her gaiety is interrupted by disturbing, dreamlike visions she has only at sunset—visions that offer glimpses of the future. Soon, friends and strangers alike call on Amelia to hear her prophecies. However, a forbidden romance with Nathaniel, an artist, threatens the new life Amelia is building in Baltimore. This enigmatic young man is keeping secrets of his own—still, Amelia finds herself irrepressibly drawn to him. When one of her darkest visions comes to pass, Amelia's world is thrown into chaos. And those around her begin to wonder if she's not the seer of dark portents, but the cause.