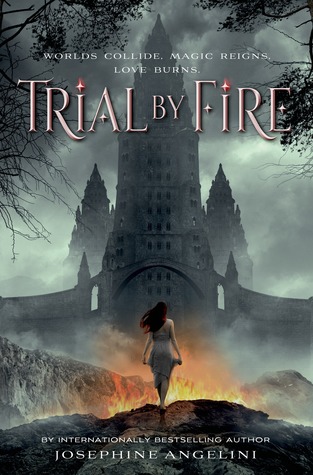 Trial by Fire (The Worldwalker #1)
Author: Josephine Angelini
This world is trying to kill Lily Proctor. Her life-threatening allergies keep her from enjoying experiences that others in her hometown of Salem take for granted, which is why she is determined to enjoy her first high school party with her best friend and longtime crush, Tristan. But after a humiliating incident in front of half her graduating class, Lily wishes she could just disappear.

Suddenly, Lily is in a different Salem—one overrun with horrifying creatures and ruled by powerful women called Crucibles. Strongest and cruelest of them all is Lillian . . . Lily's other self in this alternate universe.

What makes Lily weak at home is what makes her extraordinary in New Salem. In this confusing world, Lily is torn between responsibilities she can't hope to shoulder alone and a love she never expected.
First off, I wanted to thank the author for the chance to win this signed ARC from her blog.
I wasn't lucky with Starcrossed, the only book I read by Josephine Angelini. I don't really know if it was the translation (I read it in Spanish), but I couldn't connect with any character and I didn't like the writing.
However, everything I read about this new book was amazing and I really wanted to give it a try.
I'm not sure what to say about this book, so let's start with the good.
Trial by Fire was completely different from everything I've read before. Josephine Angelini did a great job with the 3rd person POV and the world-building. In fact, what everyone told me about the world-building was completely right. I fell in love with this twisted and wicked Salem. Everything was well explained and seemed realistic.
The characters were likable and well created. Lily is a strong and loving protagonist and Rowan is simply the best love interest ever!
The bad.
Every good thing I have to say about this book is about the world-building and the characters. I was blown away by it. It was spectacular.
BUT the pacing was too slow and it was full of info-dumping.
I felt like it had many unnecessary scenes and explanations, and after all, there'll be more sequels, so she could have added them in the next book. I'm sad to say some parts were, well… boring.
However, I enjoyed the book and I found it interesting and unique. I hope book 2 has more action, because I really want to discover all the secrets and find out how things end.
I give Trial by Fire 4 stars for its originality and amazing ending!