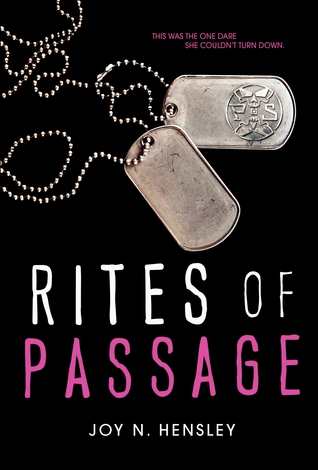 Rites of Passage
Surce: e-ARC provided by Publisher. Thank you!
Sam McKenna's never turned down a dare. And she's not going to start with the last one her brother gave her before he died.

So Sam joins the first-ever class of girls at the prestigious Denmark Military Academy. She's expecting push-ups and long runs, rope climbing and mud-crawling. As a military brat, she can handle an obstacle course just as well as the boys. She's even expecting the hostility she gets from some of the cadets who don't think girls belong there. What she's not expecting is her fiery attraction to her drill sergeant. But dating is strictly forbidden and Sam won't risk her future, or the dare, on something so petty...no matter how much she wants him.

As Sam struggles to prove herself, she discovers that some of the boys don't just want her gone—they will stop at nothing to drive her out. When their petty threats turn to brutal hazing, bleeding into every corner of her life, she realizes they are not acting alone. A decades-old secret society is alive and active… and determined to force her out.
At any cost.

Now time's running short. Sam must decide who she can trust...and choosing the wrong person could have deadly consequences.
The first sentence I said when I finished this book was: Este libro es una bomba!!
I told that to a Spanish friend. And though I said a lot of Spanish curses I can resume it simply: Rites of Passage is the most original contemporary book I read this year… no, wait! Not just this year… ever!
I only read this book because I found the premise fresh and unique. Sam is a girl born in a military family and so she goes to the first class for female cadets based on a dare she made with her dead brother.
I won't say much about the plot because the synopsis says enough. But one of my friends, "a boy" told me to say this: Rites of Passage is a contemporary book for EVERYONE. He said, as a boy, he avoids every book of this genre to stay away from the drama and insta-love with cheesy stories in them (he said that, I love contemporary). Anyway, he was right. I know some prickly friends that would probably stay away of these books for the same reasons. But Rites of Passage is a book every person has to try: Boys, girls, dystopian reader, fantasy reader, contemporary readers.
Sam McKenna is one of the strongest characters I've ever met. She doesn't have superpowers, but she's tough and loyal to her recruit buddies and to her beliefs. She's a total kick-ass heroine!
I read that the author was a military brat in real life, and maybe that's why the language, the world-building and every part of this book seems realistic and fascinating.
Her writing is clear and neat. I never felt bored while reading it. I always wanted more because it was impossible to put it down.
This book has everything: An action packed story, tons of feelings, a sweet and mature romance, awesome and strong characters, secrets and betrayals. It's an emotional ride!
Rites of Passage is about trust among the family. About partnership. It has the strongest relationships I've seen!
Overall: If you are one of those people searching for "diversity in YA" this is a book you definitely have to read. And if you're not, you have to try it as well.
Joey Hensley's debut novel is unlike everything you read before.