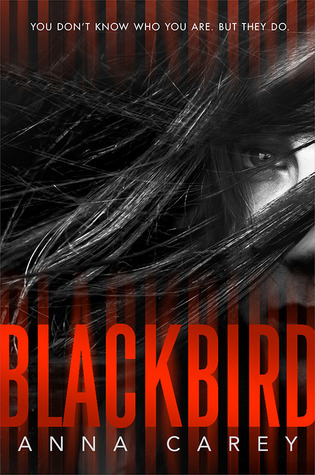 Blackbird
Series: Blackbird Duology #1
Source: ARC provided by the Publisher. Thank you!
Summary:
This twisty, breathless cat-and-mouse thrill ride, told in the second person, follows a girl with amnesia in present-day Los Angeles who is being pursued by mysterious and terrifying assailants.

A girl wakes up on the train tracks, a subway car barreling down on her. With only minutes to react, she hunches down and the train speeds over her. She doesn't remember her name, where she is, or how she got there. She has a tattoo on the inside of her right wrist of a blackbird inside a box, letters and numbers printed just below: FNV02198. There is only one thing she knows for sure: people are trying to kill her.

On the run for her life, she tries to untangle who she is and what happened to the girl she used to be. Nothing and no one are what they appear to be. But the truth is more disturbing than she ever imagined.

The Maze Runner series meets Code Name Verity, Blackbird is relentless and action-packed, filled with surprising twists.
If you like to read fan-fictions, then you must know that many of them are told in Second Person POV.
Some of them are really bad, when it comes to the writing, but they have something that you come to enjoy in the end: that you are the main character of the story.
I tell you this because when I was younger, before I started reading full-time, I used to read fan-fics and Blackbird reminds of that, and it also reminds me that not everyone can write the second person and make the readers enjoy it. And Anna Carey exceeded in it!
I know it's hard to get used to the Second Person Tense, but what's amazing is that when the main character has forgotten her name, it feels even more realistic because that person is YOU!
I probably don't make much sense. I'm just trying to say that, for me, this book worked perfectly.

Blackbird by Anna Carey is thrilling! It's action packed and it has you on the edge of your seat until you discover every secret behind "that" girl.
I don't know why, but Blackbird reminds me a little of Pawn by Aimee Carter (one of my favorite books of last year).
The plot is intriguing and full of suspense, you can't really know what to expect. It's fast-paced and thrilling!
The characters are good, but not amazing, until you realize in the end that everyone have secrets. Then, you can't stop thinking about them.

The only thing I didn't like about Blackbird was the romance. You see, the relationship between the main character and the boy who helps her is "open and free" I don't remember exactly but I think they never say the world "love" and that's okay, because I wasn't able to connect with them, together.
And then, there was this boy of her dreams… well, I do want to know him.

Blackbird is a fresh story, with an unusual POV. This is one of the few diverse YA contemporary thrillers out there.
Maybe the reason why I loved it this much is because I'm use to this kind of narrators, maybe not. What I'm sure is that everyone should give it a try.
Blackbird by Anna Carey is an engaging and captivating read.