Recently, my friend Marden read If I stay by Gayle Forman. And since I just finished re-reading Where she went for the fourth time, I'd like to share this double review about this amazing duology by this amazing author.
I hope that if you haven't read this series you give it a try. These two books are just great!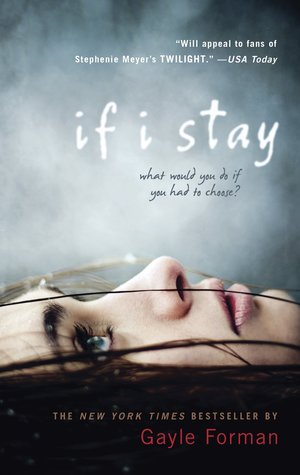 On a day that started like any other, Mia had everything: a loving family, a gorgeous, admiring boyfriend, and a bright future full of music and full of choices. In an instant, almost all of that is taken from her. Caught between life and death, between a happy past and an unknowable future, Mia spends one critical day contemplating the only decision she has left. It is the most important decision she'll ever make.

Simultaneously tragic and hopeful, this is a romantic, riveting, and ultimately uplifting story about memory, music, living, dying, loving.
Beautiful. Heartfelt. Unpretentious.

This reading was a challenge: I started reading it in Spanish (eBook) and then suddenly I received by mail the paperback in English--as part of a contest/giveaway/gift--so it was kind of difficult to adapt to the author's style when I switched languages. Because, admit it, when a book is translated to "X" language the result is a change on style (and that's something I hate).
So, I'm not gonna review this book by the way it is written, but the way it is composed.

I found beautiful the way flashbacks make deep echoes in Mia's decision. It feels as if you can take part of that decision, too.
I liked the movement between past and present. Just to know if that memory (past) will make Mia stay or leave (present) was heartfelt.
You get to understand Mia's incertitude without asking yourself why it is so hard, why the whole point of the story is about that "simple" decision. And that's because you get so many happy memories turned into thoughtful tears.

Characters are unpretentious. They are not trying to impress you, they are just a family of musicians whose lives have been changing over the years.

The Verdict: A story of sadness and happiness coming in waves, but no pain at all--she's a ghost after all.
When you read it, you live in Mia's mind. The so natural and indecisive mind.
"Love, it never dies. It never goes away, it never fades, so long as you hang on to it. Love can make you immortal"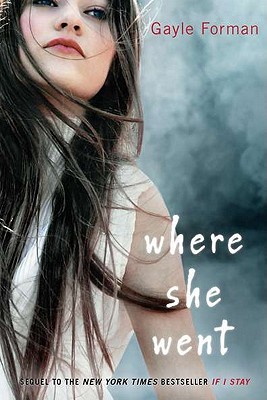 It's been three years since Mia walked out of Adam's life.

And three years he's spent wondering why.

When their paths cross again in New York City, Adam and Mia are brought back together for one life-changing night.

Adam finally has the opportunity to ask Mia the questions that have been haunting him. But will a few hours in this magical city be enough to lay their past to rest, for good - or can you really have a second chance at first love?
The first time I read Where She Went by Gayle Forman was on February 20th, 2012. Two years ago. And I read it because it was the winner of some GoodReads Award. I was curious, and I was so damn intrigued with the reviews. I read If I stay a month before, I gave it 5 stars, but I cannot even compare how much I adore Where She Went when I finally was able to read it.
You know, I don't do rereads. I can't do it because I don't have much time to read and I love to be surprised with the twists and turns of the stories, and I don't have that with re-reads. However, I read Where She Went twice that year, and the once again every year. So, probably this is the book I've read more times in my life.
Now, about Where She Went.
This book is told from Adam's POV, and let me tell you this: This is probably the best male POV I've ever read.
Gayle Forman did an amazing job creating a strong and unforgettable voice for this character. She did an incredible job portraying his loneliness and the deep hurt in his soul.
I honestly hated Mia the first half of this book. Knowing everything she did to him, knowing she broke him and left him, I hated her and I loved Adam. Because he saved her and then he took her place.
This book is unputdownable, it's fast passed and beautiful. It's heartbreaking and realistic.
While Adam had everything a boy ever wanted. Fame, money, a beautiful girlfriend, he was lost inside; he was losing himself and everyone around him. He was agonizing, and then when Mia appeared again in his life, we are able to understand how strong and painful a true love is.
This book is about second chances. It breaks you and then fixes you.
If you read If I Stay because of the movie, I seriously recommend you Where She Went. You won't be disappointing. You'll love it.
Where She Went is one of the best books out there!
"I look at her there in the shadows of the shut-down city, her hair falling onto her face, and I can see her trying to figure out if I've lost it. And I have to fight the urge to take her by the shoulders and slam her against a shuttered building until we feel the vibrations ringing through both of us. Because I suddenly want to hear her bones rattle. I want to feel the softness of her flesh give, to hear her gasp as my hip bone jams into her. I want to yank her head back until her neck is exposed. I want to rip my hands through her hair until her breath is labored. I want to make her cry and then lick up the tears. And then I want to take my mouth to hers, to devour her alive, to transmit all the things she can't understand."