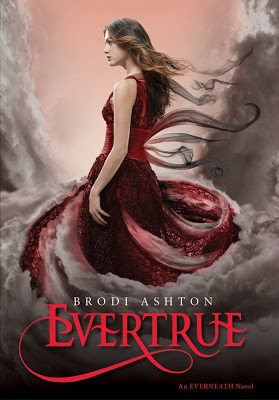 Evertrue
Now that Nikki has rescued Jack, all she wants is to be with him and graduate high school. But Cole tricked Nikki into feeding off him, and she's begun the process of turning into an Everliving herself... which means she must feed on a Forfeit soon — or die.

Terrified for her survival, Nikki and Jack begin a desperate attempt to reverse the process using any means possible. Even Cole, who they expected to fight them at every turn, has become an unlikely ally — but how long can it last? Nikki needs to feed on Cole to survive, Cole needs Nikki to gain the throne in the Everneath, Jack needs Nikki because she is everything to him — and together, they must travel back to the Underworld to undo Nikki's fate and make her mortal once more. But Cole isn't the only one with plans for Nikki: the Queen has not forgotten Nikki's treachery, and she wants her destroyed for good. Will Nikki be forced to spend eternity in the Underworld, or does she have what it takes to bring down the Everneath once and for all?

In this stunning conclusion to the Everneath trilogy, Brodi Ashton evokes the resiliency of the human spirit and the indomitable power of true love.
I'm a huge fan of the Everneath series since I read about the first book in the blog Fiktshun.
Back then, I loved the cover, I loved the characters, I love the world-building, and of course, I loved the plot and myth.
Everbound was my most anticipated of last year, and Evertrue was one of my most anticipated of this year.
I wasn't ready to say goodbye just yet, but I had to do it in order to catch up all the other series I started last year.
However, Evertrue was not what I expected. And I don't know if that was good or bad. I'm really torn between joy and love.
Evertrue was a very satisfying ending. I'm glad with how the things ended. It was perfectly wrapped and, thanks God, it wasn't an open ending.
However, even though I liked Evertrue… maybe I loved it. It's not the kind of love I felt for the other two books.
I feel like the characters I loved before weren't the same. Jack was not the same. Cole was not the same, and hell! How I missed the band!
I never thought about Nikki as a strong and fierce heroine but I liked her and she never annoyed me. That's why I was expecting a bigger evolution about her character and that never happened. Nikki was the same Nikki, and like same Nikki I liked her the same way.
Jack (my favorite character of the whole series), didn't make me swoon like before. I still love him -don't get me wrong-, but not as much as before.
Cole… *sigh* it felt like Cole was there and at the same time wasn't.
The other characters were as good as always. I enjoyed reading about them for the last time and I don't have much to say about them.
The plot was action packed and emotionally draining.
The writing was addictive and fast passed.
Overall, I loved Evertrue. I'll have a special place in my heart for this series and this ending, even if the ending wasn't as spectacular as I expected it to be.
I feel like something was missing… maybe the romance? Look! I haven't talk about the romance because it was almost inexistent. Well, Jack and Nikki's romance was sweet and cute but they almost never had time alone. I missed them.
And I will miss them forever.
Evertrue was a good closure for this series and I'm really happy that the actual ending was unexpected, strong and heartbreaking.