This week Topic.
Citrus or Pear recipe.
Epic fail for me! For starters, I don't like pear, so I have to pick Citrus, which I love, and then, I can't cook or something, so I don't have an amazing recipe to share with you.
But I do know how to make a Pink Honey Lemonade.
Ingredients.
1 cup water
3 fresh strawberries, sliced
1 cup No Calorie Sweetener, Granulated
1/4 cup Brown Sugar Blend
1 teaspoon honey
7 cups water 1 3/4 cups fresh lemon juice
2 slices orange
In a saucepan, combine 1 cup water, strawberries, Granulated Sweetener, Brown Sugar Blend, and honey. Bring to a boil, and simmer 10 minutes, stirring occasionally. Cool to room temperature, cover, and chill. In a large pitcher, mix together water, lemon juice, and orange slices. Stir in cooled strawberry and sweetener mixture; chill. Serve in a tall glass over ice.
That's all. And it looks like this!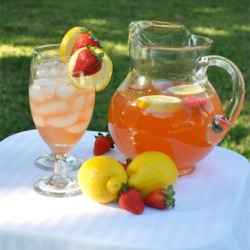 This week Chapters.
Yay! this is when the book gets better. I love all the road trip and knowing more about Kaidan. That was also when I really started to like Anna, not that I don't liked her at first, but her thoughts were so clean and sweet.
I love that scene of "Sence of touch" that was awesomeness!!!
And so, all the times Kaidan helps Anna to know about their world. To teach her. That was very sweet for him, even when I wasn't expecting him to be so sweet.
An then, Anna met her father... okay, that was weird for me, because for some reason, I don't trust him... still don't know why!