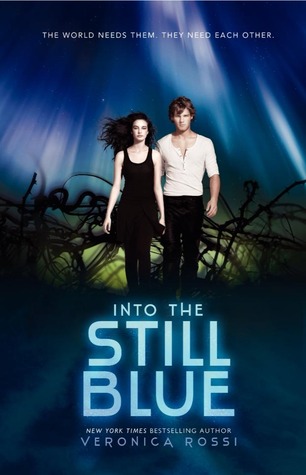 Into the Still Blue
Series: Under the Never Sky #3
Aria and Perry are determined to find this last safe haven from the Aether storms before Sable and Hess do--and they are just as determined to stay together.

Within the confines of a cave they're using as a makeshift refuge, they struggle to reconcile their people, Dwellers and Outsiders, who are united only in their hatred of their desperate situation. Meanwhile, time is running out to rescue Cinder, who was abducted by Hess and Sable for his unique abilities. Then Roar arrives in a grief-stricken fury, endangering all with his need for revenge.

Out of options, Perry and Aria assemble an unlikely team for an impossible rescue mission. Cinder isn't just the key to unlocking the Still Blue and their only hope for survival--he's also their friend. And in a dying world, the bonds between people are what matter most.

In this final book in her earth-shattering Under the Never Sky trilogy, Veronica Rossi raises the stakes to their absolute limit and brings her epic love story to an unforgettable close.
And thanks to Jen @ YA Romantics, because I won this book in her blog.
To be completely honest I wasn't the hugest fan of Under the Never Sky, but after reading Ari's reviews of the sequels I got the urge to read Through the Ever Night… and I loved it, I adored it to pieces. It made me want to read the last book as soon as possible.
Now that I read Into the Still Blue I just can say that this is one of my favorite series of all the time. These characters are the best I read in a long time.
They're well created, they're unique, they're mature and they're strong and loyal.
I am deeply and completely in love with the world of Under the Never Sky.
Into the Still Blue was the perfect ending. It was all that I expected and much more. I admit that the last chapters felt a little rushed for me, but except that, everything else was wonderful!
"You have to talk to me. We have to tell each other the little things, the bad things. Maybe they'll hurt for a while, but at least they won't become big things. If we don't, we're just going to keep hurting each other. And I don't want to do that anymore"
Now, that's a true relationship. Aria and Perry have ups and downs, but they always figure out a way to stay together and make the romance realistic and strong.
And what I love even more is that there isn't a love triangle. Couples like the ones in this book are what the YA-dystopian books need.
And what can I say about the friendship? The family?
Aria, Perry and Roar are the best team I ever met. Their friendship is so beautiful, so complete.
And the Tides are like the biggest and more wonderful family ever!
Okay, I won't say anymore, because everything I could say is the same. I loved this book. I adored it. I enjoyed it.
It made me laugh and cry. It made me feel how amazing is to be a reader.