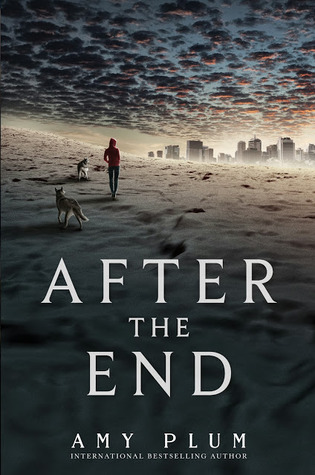 After the End
Summary:
She's searching for answers to her past. They're hunting her to save their future.

World War III has left the world ravaged by nuclear radiation. A lucky few escaped to the Alaskan wilderness. They've survived for the last thirty years by living off the land, being one with nature, and hiding from whoever else might still be out there.

At least, this is what Juneau has been told her entire life.

When Juneau returns from a hunting trip to discover that everyone in her clan has vanished, she sets off to find them. Leaving the boundaries of their land for the very first time, she learns something horrifying: There never was a war. Cities were never destroyed. The world is intact. Everything was a lie.

Now Juneau is adrift in a modern-day world she never knew existed. But while she's trying to find a way to rescue her friends and family, someone else is looking for her. Someone who knows the extraordinary truth about the secrets of her past.
If there's something I love about Amy Plum's books, that is her neat writing and her awesome characters.
That was After the End.
I don't want to say much about the plot because I think the synopsis is very descriptive and I don't want to give spoilers. But I can say I was very surprised by the magical elements in this book.
I've seen some people say After the End is a dystopian book but I'm not really sure about it. Even though Juneau had lived all her life with lies, the other side of the story, the real world, is modern and it didn't feel dystopian. Not that it matters, but this book felt quite magical.

After the End is told in alternative POV between Juneau and Miles. Amy Plum did an excellent job creating different voices.
Juneau is smart, loyal, and brave. I loved the way she acted after she discovered the truth, I loved that she was serious and determined.
The only thing I didn't like about Juneau is that she lived with her people far away from the modern world, and yet she understood everything so fast. It was like Juneau was super-smart.
Miles, in the other hand was awesome. He was hilarious! He was smart, a little arrogant but sweet and courageous.

It made me really happy when the hints of the romance started to show.
It wasn't a huge romance, but it was enough. Juneau and Miles were a badass team. Their relationship is one of the most natural I've seen. It started slowly but then it became something solid.
I'm so thankful because this book doesn't have insta-love, they even didn't trust each other at the beginning.

After the End is full of suspense and mystery. Shocking betrayals and some jaw-dropping moments.
It has everything to be an amazing read, but I was still left with a lot of questions and the ending somehow felt a little rushed. Like there was something missing.
Anyway, I really enjoyed After the End. I think this will be a great series. Plus, the cover is amazing.

After the End has action, drama, and great characters. With an amazing plot and secrecy that will have you on the edge of your seat, After the End is the best beginning of a new series.
***An eARC of this book was provided by the publisher. Thank you!***