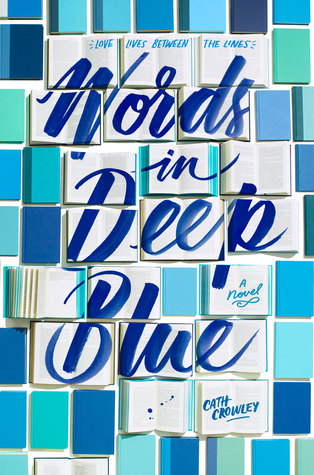 Source: eARC provided for review. Thank you!
Years ago, Rachel had a crush on Henry Jones. The day before she moved away, she tucked a love letter into his favorite book in his family's bookshop. She waited. But Henry never came.

Now Rachel has returned to the city—and to the bookshop—to work alongside the boy she'd rather not see, if at all possible, for the rest of her life. But Rachel needs the distraction, and the escape. Her brother drowned months ago, and she can't feel anything anymore. She can't see her future.

Henry's future isn't looking too promising, either. His girlfriend dumped him. The bookstore is slipping away. And his family is breaking apart.

As Henry and Rachel work side by side—surrounded by books, watching love stories unfold, exchanging letters between the pages—they find hope in each other. Because life may be uncontrollable, even unbearable sometimes. But it's possible that words, and love, and second chances are enough.
I read Words in Deep Blue a few weeks ago, but I couldn't write a review because I don't know what to say about it.
Words in Deep Blue is such a deep and beautiful book. If you've read Graffiti Moon, then you already know how magical Cath Crowley's writing is. Her words make you feel and you can't help but falling in love with her characters.
Those characters, omg, they were so lovely and cute and interesting, and so much more. I loved the main characters, and I loved the secondary characters just the same. Henry's sister and Rachel's brother were such a sweethearts, my heart breaks just thinking about them.
This book is about loss and grief, but it's so well done that I was able to see the magic and feel the joy of being alive even when my heart was broken seeing Rachel's suffering.
There's also a sort of love triangle because Henry is still in love with his ex girlfriend, but he's so cute I didn't care. It didn't feel that way.
The book is told in Rachel and Henry's POV, so it was really lovely to see them fall for each other, after everything they went through.
I loved all about this book, but one of the things I loved the most was the setting. This is a book about the power of books and words. The letter library is one of my fave things ever. The whole book was like a love letter or a love song.
You see, I don't have anything bad to say about Words in Deep Blue because I fell in love with it, with the characters, the bookshop, the plot and the writing.
Cath Crowley stole my heart once more and I can't recommend it enough. I'll read everything she writes from now on.