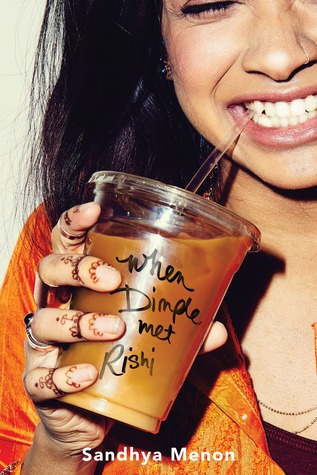 When Dimple Met Rishi
Source: eARC provided for review.
Dimple Shah has it all figured out. With graduation behind her, she's more than ready for a break from her family, from Mamma's inexplicable obsession with her finding the "Ideal Indian Husband." Ugh. Dimple knows they must respect her principles on some level, though. If they truly believed she needed a husband right now, they wouldn't have paid for her to attend a summer program for aspiring web developers…right?
Rishi Patel is a hopeless romantic. So when his parents tell him that his future wife will be attending the same summer program as him—wherein he'll have to woo her—he's totally on board. Because as silly as it sounds to most people in his life, Rishi wants to be arranged, believes in the power of tradition, stability, and being a part of something much bigger than himself.
The Shahs and Patels didn't mean to start turning the wheels on this "suggested arrangement" so early in their children's lives, but when they noticed them both gravitate toward the same summer program, they figured, Why not?
Dimple and Rishi may think they have each other figured out. But when opposites clash, love works hard to prove itself in the most unexpected ways.
Oh, what can I say about When Dimple Met Rishi? Guys! This book deserves all the hype I've seen on Twitter and Goodreads lately. It's one of the best contemporaries I've ever read. It's so cute and fun and lovely.
When Dimple Mets Rishi is one of the few "romance centered" contemporaries I've read. And it was amazing. The romance was slow even though they were together in almost every chapter.
Dimple and Rishi had many things in common, but they were the exact opposite. I loved that Dimple was strong and a little cynical while Rishi was witty and romantic.
I didn't know what to expect about this book, but it was perfect. It was Bollywood glory and dare I say, nerdy glory?
I loved how the Indian culture was portrayed. Through Dimple and Rishi it showed us two sides of Indian-American families. Rishi, very traditional and Dimple… well, not too much.
Did I say that this book was nerdy glory? It was! From Dimple's love for codes to Rishi's love for comics. Honestly, there wasn't a moment I wasn't smiling while reading it.
And the writing was so good!
When Dimple Met Rishi is a lovely diverse book with likable characters and a wonderful romance. I wouldn't change anything about it. Plus, it has a beautiful message about overcoming our fears and fighting for our dreams.
I highly recommend this to everyone!