Some Books Ago is a shout out to all those books published some years ago. I don't want you to forget them!
Tithe by Holly Black is the book that made me love faeries. It actually got my attention because in Spanish it was called: The Dark Court's Tribute. I freaking loved that title, so I borrowed it and read it in one sitting. I'm not sure if I'd love it right now, but from what I remember Tithe is such a fun read. Roiben and Kaye were lovely characters and Holly's writing is perfect for fans of Cassandra Clare (and if I'm not wrong there's even a cameo of some Tithe characters in The Mortal Instrumens. Just saying!)
Anyway, if you're looking for quick reads and love faeries, this one is perfect for you!
It was published on April 2004 by Simon Pulse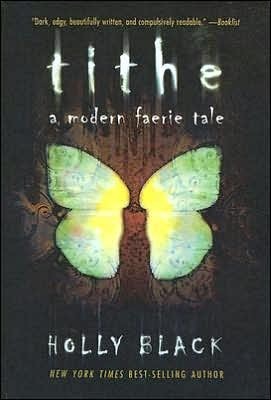 Summary:
Welcome to the realm of very scary faeries!
Sixteen-year-old Kaye is a modern nomad. Fierce and independent, she travels from city to city with her mother's rock band until an ominous attack forces Kaye back to her childhood home. There, amid the industrial, blue-collar New Jersey backdrop, Kaye soon finds herself an unwilling pawn in an ancient power struggle between two rival faerie kingdoms - a struggle that could very well mean her death.