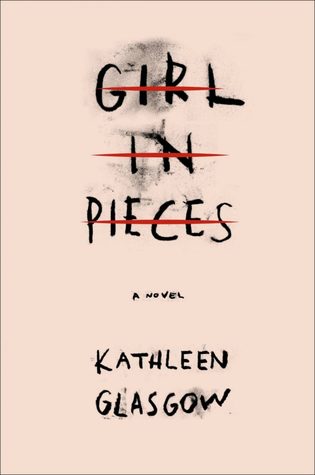 Girl in Pieces
Source: Provided for review. Thank you!
My Rating: 6 stars *Favorite*
Charlotte Davis is in pieces. At seventeen she's already lost more than most people lose in a lifetime. But she's learned how to forget. The broken glass washes away the sorrow until there is nothing but calm. You don't have to think about your father and the river. Your best friend, who is gone forever. Or your mother, who has nothing left to give you.




Every new scar hardens Charlie's heart just a little more, yet it still hurts so much. It hurts enough to not care anymore, which is sometimes what has to happen before you can find your way back from the edge.

A deeply moving portrait of a teenage girl on the verge of losing herself and the journey she must take to survive in her own skin, Kathleen Glasgow's debut is heartbreakingly real and unflinchingly honest. It's a story you won't be able to look away from.
I think I've said this everywhere, but here I am saying it again: GIRL IN PIECES by Kathleen Glasgow was my best surprise of this year!
I started reading this book without high expectations. I didn't add it to Goodreads, because I never put attention to it before, but it amazed me from the first chapter. The writing of this book is raw and beautiful. I just couldn't stop reading.
Girl in Pieces is about Charlie's journeys to overcome her dark past. She's probably the most broken and damaged main character I've met yet. Her story is heavy and painful. It was brutally honest.
There are so many things I loved about this book. It was perfection.
Writing: Beautiful, poignant, haunting.
Characters: Realistic, well developed, unforgettable.
Plot: Brutal, honest, gut-wrenching.
This book made me feel! It made me understand Charlie in a way I would never before. This book was hard to read sometimes because it's cruel and there's so much pain, but it was necessary. This book is POWERFUL.
All characters in this book are dealing with their own problems, just like every person in real life. Sometimes Charlie is with wrong people for the wrong reasons, like you, like me.
And just when I thought: "Finally! Something good's about to happen" I was wrong again. There were so many things I didn't see coming.
I don't think I have enough words to describe how wonderful was this book, but I do think it's a necessary read. Kathleen Glasgow's debut is one of my favorite pieces of literature of this year. I would never forget it.
Girl In Pieces is a beautiful book with messed up characters learning from their mistakes. It's heartbreakingly captivating and hey, there's a word I learned just to describe this book:

spellbound

.
I loved it. I highly recommend it to everyone.