Hello everyone! Today's my stop in the UK Blog Tour for As I Descended by Robin Talley. I loved this book, so make sure to read my 4.5 stars review bellow. And if you haven't added it to your TBR, make sure to do it soon!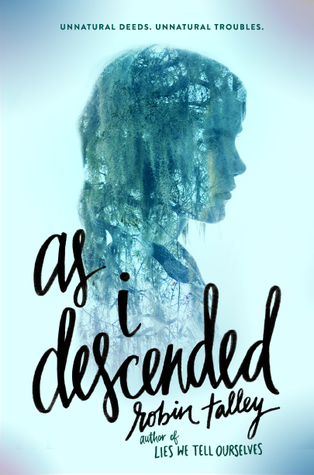 Maria Lyon and Lily Boiten are their school's ultimate power couple—even if no one knows it but them.

Only one thing stands between them and their perfect future: campus superstar Delilah Dufrey.

Golden child Delilah is a legend at the exclusive Acheron Academy, and the presumptive winner of the distinguished Cawdor Kingsley Prize. She runs the school, and if she chose, she could blow up Maria and Lily's whole world with a pointed look, or a carefully placed word.

But what Delilah doesn't know is that Lily and Maria are willing to do anything—absolutely anything—to make their dreams come true. And the first step is unseating Delilah for the Kingsley Prize. The full scholarship, awarded to Maria, will lock in her attendance at Stanford―and four more years in a shared dorm room with Lily.

Maria and Lily will stop at nothing to ensure their victory—including harnessing the dark power long rumored to be present on the former plantation that houses their school.

But when feuds turn to fatalities, and madness begins to blur the distinction between what's real and what is imagined, the girls must decide where they draw the line.

From acclaimed author Robin Talley comes a Shakespeare-inspired story of revenge and redemption, where fair is foul, and foul is fair.
eARC provided for review. Thank you!
I am in awe. I was not expecting to like this book so much. As I Descended has been called a "lesbian Macbeth retelling" Of course I read Macbeth, but I don't remember much about it, so it was really amazing to dive into this book without a clue about what would happen.
For starters, the synopsis of this book makes it sound like it's a "mean girls" kind of story, but it's more than that. As I Descended is creepy and dark, it's such a fast paced read!
It has a great cast of diverse characters and some Hispanic legends I was not expecting. It's not very often that I find Hispanic beliefs so well portrayed and that makes me happy. Seriously, I understand the fear of some characters because it's something I've felt. The author did a great job creating realistic characters in a world of madness.
The plot is twisted and full of twists and turns. There were so many things I didn't see coming. It had me on the edge of my seat every time I read. Whoa! I'm not sure how much of Macbeth it has, but this book was addictive. Even though there's not much romance, As I Descended has some great couples I loved, and some I didn't trust since the beginning.
As I Descended by Robin Talley is an emotional roller coaster. It has multiples POVs, which make the reader understand a little more about each character and that makes you come to your own predictions. It has some great betrayals, pain and many scary scenes. As I Descended is a must read!
PS: The only reason I don't give this book 5 stars is because even though Maria, the main character is hispanic, she never looked proud of it or even said something good about her blood. She's an anti heroe, so I understand this, but still...
Robin Talley grew up in Roanoke, Virginia, writing terrible teen poetry and riding a desegregation bus to the school across town. Robin lives in Washington, D.C., with her fiancée, plus an antisocial cat and a goofy hound dog. When Robin's not writing, she's often planning communication strategies at organizations fighting for equal rights and social justice. You can find her on the web at www.robintalley.com or on Twitter at @robin_talley