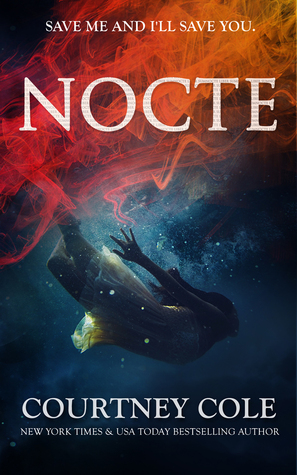 Nocte
My name is Calla Price. I'm eighteen years old, and I'm one half of a whole. My other half-- my twin brother, my Finn-- is crazy. I love him. More than life, more than anything. And even though I'm terrified he'll suck me down with him, no one can save him but me. I'm doing all I can to stay afloat in a sea of insanity, but I'm drowning more and more each day. So I reach out for a lifeline. Dare DuBray. He's my savior and my anti-Christ. His arms are where I feel safe, where I'm afraid, where I belong, where I'm lost. He will heal me, break me, love me and hate me. He has the power to destroy me. Maybe that's ok. Because I can't seem to save Finn and love Dare without everyone getting hurt. Why? Because of a secret. A secret I'm so busy trying to figure out, that I never see it coming. You won't either.
Nocte is one of the most messed up books I've ever read. It's also one of the few books I finished in less than a day.
The story of Calla is full of suspense and insanity. I couldn't stop trying to guess the big twist and when I came to that part I was shocked and heartbroken.
This is not an easy book to read. It's hard, it's not for everyone.
Be careful, if you want to read this book you have to be ready for everything.
The romance was a little complicated for me, because it felt a little like insta love. It was until the ending that I understood everything and realized just how well created the romance was.
And Dare was an amazing love interest.
Even though, Nocte is a NA book I can say it's really clean. I stopped reading NA books a while ago because I feel like all of them focused on sex, but Nocte is not a romance, it's a thriller.
I loved that fact that Calla lived in a funeral house. It gave it a gothic feeling.
If you love to read killer books. If you love insane books. If you love a book that plays games with your head, then you definitely have to read Nocte.
"I would plunge to the bottom of the ocean for you. I'd comb it for shells and make you a necklace and then hang myself with it. Because if you aren't here, I don't want to be either."
The truth shall set you free.
Verum
My name is Calla Price and I'm drowning.
My new world is a dark, dark ocean and I'm being pulled under by secrets.
Can I trust anyone? I don't know anymore.
The lies are spirals. They twist and turn, binding me with their thorns and serpentine tongues. And just when I think I have it figured out, everything is pulled out from under me.
I'm entangled in the darkness.
But the truth will set me free.
It's just ahead of me, so close I can touch it. But even though it shines and glimmers, it has glistening fangs and I know it will shred me.
Have you ever read a book that let you screaming and wondering WTF just happened?
Well, if you read Nocte you probably felt this way. But after reading Verum you'll never trust this author again.
I didn't love Verum the way I loved Nocte because I feel like I was running in circles and I was tired of the secrets. I have to read the ending to understand it was necessary and I couldn't help but fall in love with these characters once again.
Verum takes place in England, which gave the story some kind of historical feeling.
Calla and Dare a great couple of main characters. The plot is crazy and strange. It doesn't matter if you feel like you guessed everything right. You're wrong.
Verum is surprising, even more thrilling that Nocte. It's gripping. It's unpredictable.
I cannot recommend this series enough, and I can wait to read Lux and unravel finally the truth.
"Dear Reader, Dante Alighieri said, in his Inferno: "Do not be afraid; our fate cannot be taken from us; it is a gift." Dante lied. Our fate must be worked for. It must be paid for. With tears. With blood. With everything we have. And it is not until the end, the very end, that we will know if it was worth it."
My pieces are all around me, floating on the wind, even as I desperately try to grasp them.
Who is dead? Alive? Insane?
I do know this: The darkness is strangling me. With every breath, I choke on another lie.
My mind has protected me, but that shield will soon be lowered.
All will be revealed.
Every answer to every question.
It's all been leading to this.
Don't be afraid.
Be terrified.

PS: Stop by on March 20th for a chance to win a signed copy of Nocte!