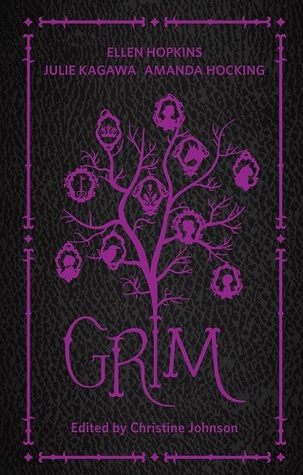 GRIM
Authors:
Ellen Hopkins, Amanda Hocking, Julie Kagawa, Claudia Gray, Rachel Hawkins, Kimberly Derting, Myra McEntire, Malinda Lo, Sarah Rees-Brennan, Jackson Pearce, Christine Johnson, Jeri Smith Ready, Shaun David Hutchinson, Saundra Mitchell, Sonia Gensler, Tessa Gratton, Jon Skrovon
.
Source: eARC provided by Harlequin Teen
Inspired by classic fairy tales, but with a dark and sinister twist, Grim contains short stories from some of the best voices in young adult literature today.
I am a huge fan of anthologies, that's why when I read about Grim I was so excited to read it.
Anthologies are my chance to read short stories and different kind of topic that I haven't read from my favorite authors.
However, most of authors of Grim where still unknown for me, and I'll be looking forward to them after reading their stories.
Grim was a dark collection of fairy tales. I enjoyed most of them, but I didn't like the fact that almost all stories felt incomplete and the endings were rushed or too open.
Some were straight re-telling, though I can say that only about the tales I already read.
Some other had a dark twist that made the story beautiful and unique.
Each story was different and that's why I'll try to say a little about each of them.
The Key by Rachel Hawkins (Bluebeard)
This is the first story in the anthology, but the last one I read. It was a good is topic, but has an open ending. It felt like a prequel, though, I'd really like to read a whole book about Lana and Skye.
Figment by Jeri Smith-Ready (Puss in Boots)
I'm a huge fan of Jeri Smith-Ready that's why this was the first story I read. I this, Puss in boots is a lucky charm. It was about music (one of my favorite topics), I liked the writing and main character. I found it good, and it had a solid ending. Good, but forgettable.
The Twelfth Girl by Malinda Lo (12 Dancing Princesses)
It was good but not memorable. I liked it, but didn't love it. The setting was good, and so the plot.
The Raven Princess by Jon Skovron (The Raven)
I've read this is an exact re-telling, but since I haven't read the original one, I loved it. The writing was additive, the story was magical and the characters well developed.
It wasn't dark; this was a real fairy tale. And yet, I loved it.
Thinner Than Water by Saundra Mitchell (Donkeyskin)
This story was disturbing, dark and twisted. And to be completely honest, this was my favorite.
It deals with a hard and mature topic, but the main character and the writing was simply amazing.
Before the Rose Bloomed by Ellen Hopkins (The Snow Queen)
Well, I didn't like the story and I didn't like the writing style. It was hard to read, this was probably my least favorite.
Beast/Beast by Tessa Gratton (Beauty and the Beast)
This one was good. I liked the writing, even though it wasn't really different from the original.
The Brothers Piggett by Julie Kagawa (The Three Little Pigs)
5 stars
This was one of those few with a perfect ending. Julie Kagawa did it again. This re-telling was dark and twisted. I loved the Brothers Piggett, and of course, the wolf!
Untethered by Sonia Gensler (The Shroud)
Since I don't know the original story I didn't find this remarkable. The ending was a bit shocking and unexpected, but except that, it was just plain good.
Better by Shaun David Hutchinson (The Pied Piper)
This is one of the two sci-fi. Loved the writing and since I don't know the original I loved the plot. This story was sad and tragic. The ending was phenomenal!
Light it Up by Kimberly Derting (Hansel & Gretel)
A modern version of Hansel and Gretel… good, it felt like a contemporary story, with a good ending.
Sharper Than a Serpent's Tongue by Christine Johnson (Diamonds and Toads)
I love the original story! This one was well done, adapted to the modern world. The writing was good, but… the ending was too open.
A Real Boy by Claudia Gray (Pinocchio)
The second sci-fi. This is sad, and complex. For some reason this was the last story I read (I'm not a huge fan of Pinocchio). It was the perfect closure for me. A real boy was… wow! Incredible!
Skin Trade by Myra McEntire (The Robber Bridegrom)
Don't know the original story, but I love Myra McEntire, that's why this story was the most disappointing. It was disturbing and dark? Yes. But again, a "too open" ending and it was too short.
Beauty and the Chad by Sarah Rees Brennan (Beauty and the Beast)
Even though I had a hard time figuring out the setting, and I don't appreciate a Beast saying "Dude"
This tale was fresh and funny. I laughed out loud with the amazing ending. It was hilarious!
The Pink by Amanda Hocking (The Carnation)
Again I don't know the original. I loved this one, though. A great ending (I feel sorry for the villain). Cute characters and cute love story.
Sell Out by Jackson Pearce (Snow White)
Snow White from a male POV. The adaptation and modern setting was amazing. I adored this one!
The writing, the characters and the ending.
It was a great, great ending to the anthology.
***Thanks to Harlequin Teen for the chance to read this eARC***